MHI Receives Order for Replacement Reactor Vessel Closure Head
From Government-controlled Electricity Company in Brazil
-- First Brazilian Order for Large-size NPP Component to Japan --
Tokyo, November 7, 2007 - Mitsubishi Heavy Industries, Ltd. (MHI) has received an order from Eletrobrás Termonuclear S.A. (Eletronuclear), a government-controlled electricity company in Brazil, for the supply of a replacement reactor vessel closure head (RRVCH) for the power provider's pressurized water reactor (PWR) nuclear power plant (NPP). The order marks the first order from Brazil for a large-size NPP-use component placed to a Japanese company. The RRVCH on order is slated for delivery in April 2010.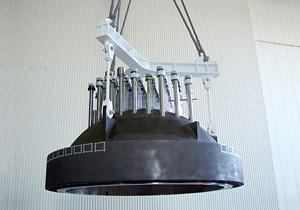 The RRVCH, a large NPP component made of low-alloy steel, will be manufactured at MHI's Kobe Shipyard & Machinery Works for installation at Eletronuclear's 657 MWe (electric megawatt) Angra 1 PWR NPP. Angra 1, located approximately 130 kilometers west of Rio de Janeiro, began commercial operation in 1985. Replacement of the RRVCH is aimed at making plant operations more reliable and economical.
Eletronuclear is a subsidiary of Centrais Eletricas Brasileiras S.A. (Eletrobrás), Brazil's central electricity corporation in which the national government and Banco Central do Brasil, Brazil's central bank, collectively have a greater than 60% equity stake. Eletronuclear also owns and operates the Angra 2 NPP.
In Brazil, stable supply of electricity has become an issue as the country's economy expands, and positive revaluation of nuclear power generation is progressing rapidly from the standpoints of environmental benefits and energy security. As a result, negotiations concerning large-size NPP component replacements have increased amid plans to extend the operational life of existing plants, and new NPP constructions are gathering momentum. The latest RRVCH order is part of this trend, and MHI believes the unit on order will contribute to stable power supply in Brazil.
MHI has independently marketed its nuclear power equipment in major NPP markets worldwide and exported numerous components to date, including 15 RRVCH units to the U.S. The company believes it won the new order from Brazil based on the customer's high evaluation of MHI's outstanding technological expertise, proven capabilities in manufacturing and product quality, and its strong record in exports and punctual delivery.
Brazil and the other countries of South America have adopted an increasingly positive view toward nuclear power generation as revaluation of nuclear power gains momentum globally. Leveraging the Brazilian order, MHI now plans to expand its NPP equipment business in the region through maintenance and development of the solid relationships the company already enjoys with local customers.
---
About MHI Group
Mitsubishi Heavy Industries (MHI) Group is one of the world's leading industrial groups, spanning energy, smart infrastructure, industrial machinery, aerospace and defense. MHI Group combines cutting-edge technology with deep experience to deliver innovative, integrated solutions that help to realize a carbon neutral world, improve the quality of life and ensure a safer world. For more information, please visit www.mhi.com or follow our insights and stories on spectra.mhi.com.