MHI Completes New Plant Dedicated to Gear-cutting Tool Production
At MHI-IPT, Indian Subsidiary
-- Production Capacity Doubled, Aiming at 50% Local Market Share in FY2008 --
Tokyo, August 9, 2007 - Mitsubishi Heavy Industries, Ltd. (MHI) has completed the construction of a new plant at Mitsubishi Heavy Industries India Precision Tools, Ltd. (MHI-IPT), an Indian subsidiary dedicated to manufacturing and sales of gear-cutting tools. The ceremony to mark the plant's completion at MHI-IPT, which is 96% owned by MHI, will be held on August 10. Investment into the new plant, totaling around 10 million US dollar, has been targeted at responding to strong demand from Indian automobile industry that shows more than 20% growth in a year. With completion of the new plant, production capacity at MHI-IPT becomes double.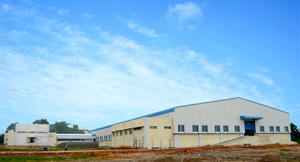 MHI-IPT, an overseas production base of MHI's Machine Tool Division, has its headquarters in southern India's Tamil Nadu state, at Ranipet near Chennai (formerly Madras). The company manufactures precision gear-cutting tools, including hob cutters, gear shaping cutters, gear shaving cutters and all kinds of broach cutters.
The new plant, with 3,500 square meters (approximately 37,500 square feet) of floor space, was built next to an existing plant with floor space of 7,000 square meters. To double production capacity at MHI-IPT, more than 80 machines were installed in the new plant, including the latest numerical control (NC) machines. The number of employees was also increased from 400 to 590. With these initiatives, MHI-IPT looks to double its sales in fiscal 2008 (ending March 31, 2009) from the level of fiscal 2006.
In India, where the economy has been growing steadily in recent years, a demand for motorcycles and automobiles is rapidly increasing. Automobile output in India reached one million units for the first time in 2003, exceeded two million units in 2006, and is expected to touch four million units in 2010. With this expanding production, demand for gear-cutting machines and their tools is also growing rapidly. In order to grab a large share of this surging market, MHI-IPT sought to expand its production facilities as quickly as possible.
MHI-IPT was established as one of MHI's strategic overseas production bases in May 2005 through acquisition of S.R.P. Tools Limited, India's largest gear-cutting tool manufacturer. Since its establishment, the company has steadily expanded both its sales and market share. With completion of the new plant, MHI-IPT is now positioned to respond to the swiftly growing local market, and it aims to raise its market share from the current 40% (fiscal 2006) to 50% by fiscal 2008. The company will also commence export of the tools form India.
---
About MHI Group
Mitsubishi Heavy Industries (MHI) Group is one of the world's leading industrial groups, spanning energy, smart infrastructure, industrial machinery, aerospace and defense. MHI Group combines cutting-edge technology with deep experience to deliver innovative, integrated solutions that help to realize a carbon neutral world, improve the quality of life and ensure a safer world. For more information, please visit www.mhi.com or follow our insights and stories on spectra.mhi.com.