・ A shipping ceremony was held at the Composite Wing Center of the Nagoya Aerospace Systems Works on February 10th.
・ Digital technology and Artificial Intelligence (AI) integrations have helped MHI expand and improve productivity
Tokyo, February 10, 2020 - Mitsubishi Heavy Industries, Ltd. (MHI) has shipped its 1000th composite-material wing box for the Boeing 787 Dreamliner. This key milestone comes roughly thirteen years after the first unit was shipped in May, 2007. The latest batch of wing boxes has been shipped from the Higashinagoyako Pier, adjacent to the factory and Central Japan International Airport. They will then be transported by the Dreamlifter to Boeing's factory in South Carolina (North Charleston, South Carolina) on February 12, 2020.
On the day of the shipment, a ceremony was held to commemorate the event. Many people, including Mr. Will Shaffer, President of Boeing Japan, attended the ceremony and congratulated the accomplishment.
The composite-material wing boxes of the 787 are made of carbon fiber reinforced plastic (CFRP), a material never used before for the wing box of a commercial airplane. The material and production method applied is superior in strength, rigidity, and corrosion resistance to conventional aluminum alloys and titanium alloys, resulting in a significant weight reduction and more than 20% improvement in fuel economy compared to conventional models.
Since the beginning of the 787 program, MHI has incrementally incorporated innovations such as AI (artificial intelligence), digital technology, and other technologies to improve quality, expand production, and reduce costs.
MHI will continue integrating automation and reliable technologies to further improve productivity and deliver comfortable air travel to people around the world.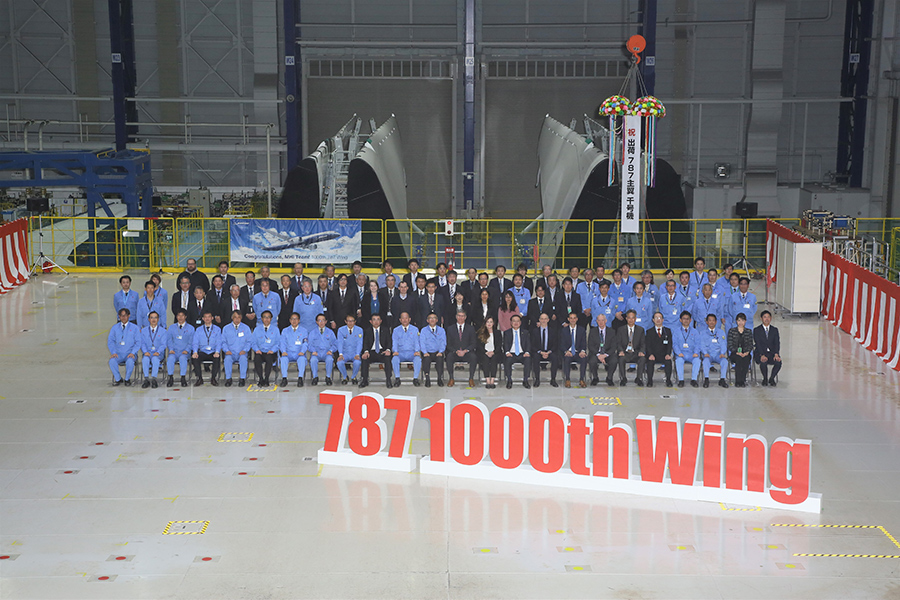 ---