Order Received from the Philippines for Rehabilitation and Maintenance of Manila MRT-3
Sumitomo Corporation
Mitsubishi Heavy Industries Engineering, Ltd.
Sumitomo Corporation (Head Office: Chiyoda-ku, Tokyo; Representative Director, President and Chief Executive Officer: Masayuki Hyodo), and its partner Mitsubishi Heavy Industries Engineering, Ltd. (Head Office: Nishi-ku, Yokohama, Kanagawa Prefecture; Representative Director, President and Chief Executive Officer: Shigehisa Kobayashi; hereinafter, "MHIENG") have received an order from the Republic of the Philippines' Department of Transportation (hereinafter, "DOTr") for a rehabilitation and maintenance project (hereinafter, "the Project") for Manila Metro Rail Transit System Line 3 (hereinafter, "MRT-3") in the Philippines capital city.
The MRT-3 project (using 73 Czech-made train cars) was originally carried out by Sumitomo Corporation, in partnership with MHIENG (then known as Mitsubishi Heavy Industries, Ltd.), for the construction of a full urban transportation system, inclusive of elevated structures, stations, rails, signals, communications, transformers, wiring, railway depots, and trains, running a total length of 17 kilometers and comprising a total of 13 stations. The Export-Import Bank of Japan (now the Japan Bank for International Cooperation) granted export credit for the project, while the Czech Export Bank provided export credit for the rolling stock. The line has been utilized by Manila residents as a means of transport for well over a dozen years since the line went into full operation in 2000.
Sumitomo Corporation, together with its partner, Mitsubishi Heavy Industries and its Group company TES Philippines Inc. (Head Office: Quezon, Philippines; Representative Director, President: Kiyoshi Morita; hereinafter, "TESP"), was contracted to provide maintenance until 2012, but since then the aging of the system and disruptions in the procurement of maintenance parts have reduced the system's operating rate.
The aim of the Project, with TESP joining as a partner, is to carry out extensive repairs to all rolling stock and equipment whose operating rates have dropped due to aging or other reasons, without interfering with ordinary operation, in order to restore the line's safety and efficiency. A new safe maintenance regime will also be developed to maintain high operating rates even after the repairs are finished. Repair work will begin in January 2019 and be concluded in July 2022 (contract period: 43 months). The contract is worth about 35.5 billion yen, which the DOTr will pay through yen-denominated loans from the Japan International Cooperation Agency.
Economic losses from traffic congestion in Manila have been estimated to be as high as 3.5 billion pesos (approximately 7.5 billion yen) per day, and repairing MRT-3 and enhancing its passenger transport capacity should help alleviate traffic congestion.
Sumitomo Corporation has heretofore actively engaged in railway-related businesses both inside and outside Japan, and has been involved in numerous railway construction and rolling stock export projects, mostly in Southeast Asia, the US and East Asia. Sumitomo Corporation will be utilizing its wealth of experience to ensure the Project contract is fulfilled steadily and smoothly.
MHIENG, utilizing as its strengths the reliability of its transportation systems confirmed by its delivery and operational track record, as well as engineering capabilities and project management skills acquired through extensive experience, is further enhancing efforts to develop and support transportation systems, including the construction of new railways, as well as measures for the expansion, improved transport capacity, and renovation of existing networks.
Reference
■Project overview
| | |
| --- | --- |
| Project name: | Manila Metro Rail Transit Line 3 Rehabilitation Project |
| Client: | Department of Transportation, Republic of the Philippines |
| Work scope: | Repair work to the full system (rail lines, wiring, transformers, signals, communications, rolling stock, etc.), excluding civil engineering and construction work |
| Work overview: | The aim is to carry out repairs of the MRT-3 system on its full 16.9-kilometer length along Epifanio de los Santos Avenue (EDSA), Metro Manila's main thoroughfare, and restore the system to its previous high operating rate |
| Work period: | Rehabilitation work (26 months) + ordinary maintenance (17 months) = total of 43 months |
■MRT-3
(Metro Manila's urban railways and measures by Sumitomo Corporation and MHIENG)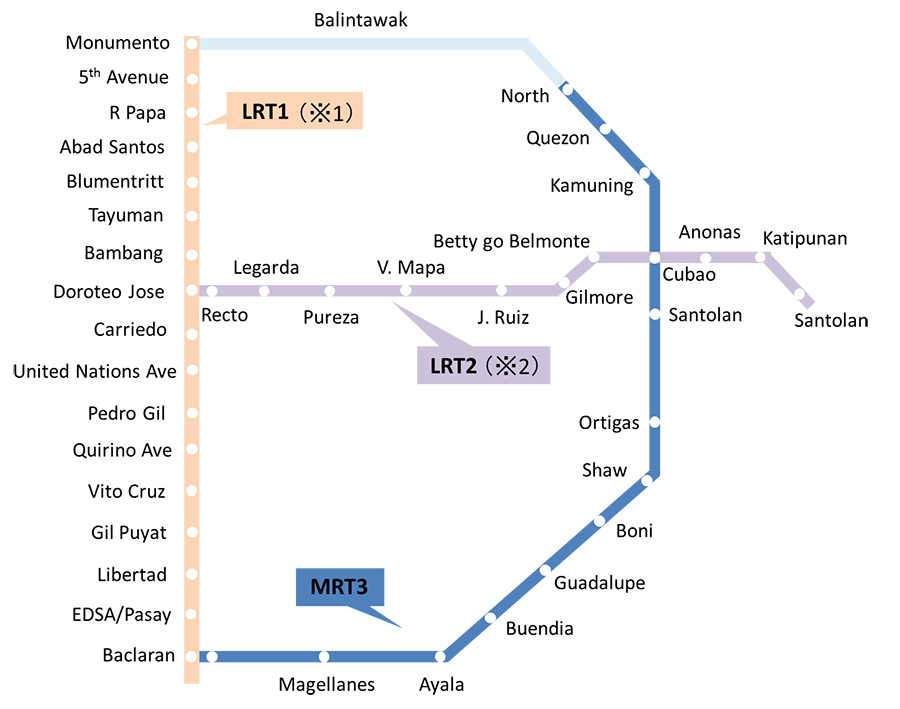 1

Contract to enhance transport capacity of LRT1 (completed in 2007)

2

Contract to construct railway depot for LRT2 (completed in 2003)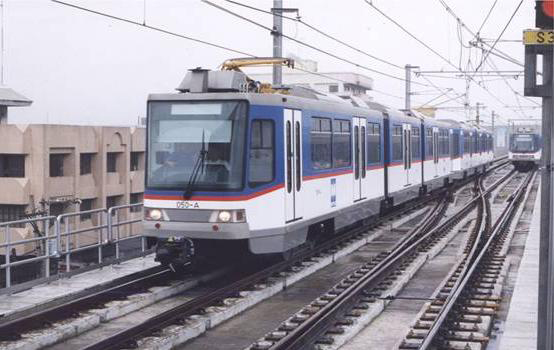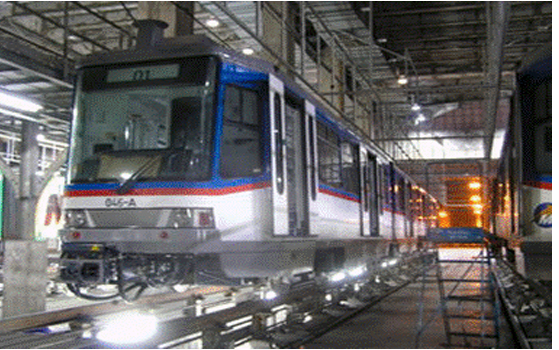 ---
About MHI Group
Mitsubishi Heavy Industries (MHI) Group is one of the world's leading industrial groups, spanning energy, smart infrastructure, industrial machinery, aerospace and defense. MHI Group combines cutting-edge technology with deep experience to deliver innovative, integrated solutions that help to realize a carbon neutral world, improve the quality of life and ensure a safer world. For more information, please visit www.mhi.com or follow our insights and stories on spectra.mhi.com.