Mitsubishi Shipbuilding Holds Christening Ceremony for LPG Carrier "LAUREL PRIME"
-- Seventh Vessel of Its Type for Astomos Energy --
・ Energy efficient vessel compatible with major LPG terminals worldwide and the expanded Panama Canal
・ Built by MHI Marine Structure in Nagasaki, with tank holding capacity of 83,000m3
Tokyo, December 14, 2018 - Mitsubishi Shipbuilding Co., Ltd., a Group company of Mitsubishi Heavy Industries, Ltd. (MHI) based in Yokohama, held a christening ceremony yesterday for a liquefied petroleum gas (LPG) carrier currently under construction for Astomos Energy Corporation. The new ship, named LAUREL PRIME, will be the seventh vessel of its type for Astomos Energy. In addition to energy saving performance, the ship will have the capability to adapt flexibly to major LPG terminals worldwide, as well as specifications compatible with the newly expanded Panama Canal. Completion and delivery is scheduled for the end of December, 2018. The vessel will be operated by Nippon Yusen Kaisha (NYK Line).
The christening ceremony, held at the Koyagi Plant of MHI's Nagasaki Shipyard & Machinery Works, was attended by representatives of the ship owner, along with many other guests. Astomos Energy President Seiya Araki named the ship, while his wife performed the ceremonial rope cutting.
The LAUREL PRIME has a length of 230m, width of 36.6m, and depth of 21.65m, with a draft of 11.1m. Gross tonnage is approximately 48,300 tons, with total tank holding capacity of 83,000m3. Launching took place on September 12, 2018. Construction was managed by MHI Group Company, Mitsubishi Heavy Industries Marine Structure Co., Ltd., based in Nagasaki.
The new vessel utilizes a unique hull form derived from the design and manufacturing capabilities, providing exceptional fuel efficiency and high compatibility to the various LPG terminals in the world. This is the 11th vessel in its LPG carrier series.
Going forward, Mitsubishi Shipbuilding and MHI Marine Structure will continue development of LPG carriers with exceptional fuel efficiency and sustainable performance, in order to contribute to stable energy supplies and environmental conservation.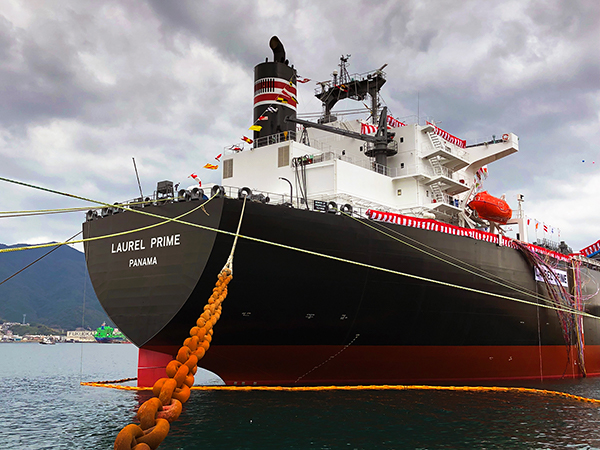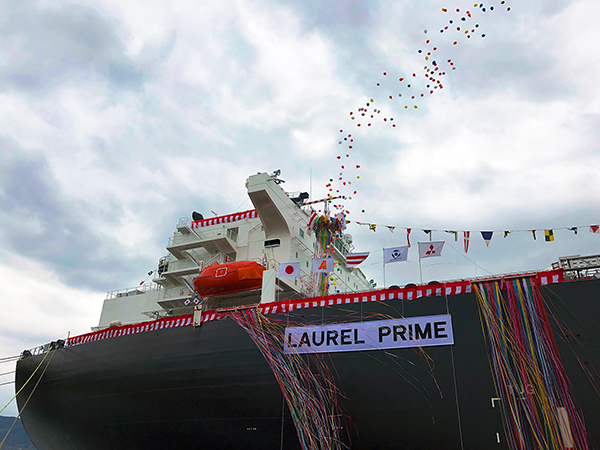 LPG Carrier "LAUREL PRIME"
---
About MHI Group
Mitsubishi Heavy Industries (MHI) Group is one of the world's leading industrial groups, spanning energy, smart infrastructure, industrial machinery, aerospace and defense. MHI Group combines cutting-edge technology with deep experience to deliver innovative, integrated solutions that help to realize a carbon neutral world, improve the quality of life and ensure a safer world. For more information, please visit www.mhi.com or follow our insights and stories on spectra.mhi.com.