MHI Receives Contract for Fertilizer Plant Construction in Bangladesh
-- Bangladesh Chemical Industries Corporation's Ghorasal Project --
・ Production capacity of 2,800 t/day, the largest in Bangladesh
・ EPC arrangement jointly conducted with Chinese firm
Tokyo, October 25, 2018 - Mitsubishi Heavy Industries, Ltd. (MHI), together with China National Chemical Engineering No.7 Construction Co., Ltd., have signed a fertilizer plant construction project for Bangladesh Chemical Industries Corporation, an organization owned by the Bangladesh government. This will be the largest fertilizer plant in Bangladesh, with production capacity of 2,800 tonnes per day. The project will be managed through an EPC (engineering, procurement and construction) contracting arrangement, with completion scheduled for 2022. As the next step, arrangements for financing have begun in cooperation with Marubeni Corporation, who has plenty of proven records in construction projects of various plant and infrastructure facilities in Bangladesh, and the contract will officially come into effect once the financing is finalized.
The fertilizer plant will be built in Polash under the district of Narsingdi, 50 kilometers northeast of the capital city of Dhaka. It will utilize natural gas produced in Bangladesh, and have the capacity to produce 1,600 tonnes of ammonia and 2,800 tonnes of urea per day.
Demand for fertilizer is booming to produce more agricultural products in Bangladesh, driven by the country's high economic growth rate, which reached a record 7% in fiscal 2017.
MHI's first fertilizer production plant in Bangladesh was built in 1992, and continues to maintain a high operating rate. Along with the ability to meet demands of a rapidly growing economy, MHI specifically received this contract in recognition of its own CO₂ recovery technologies that both reduce the environmental load and enhance urea production.
MHI Group will continue to further enhance its presence in the global fertilizer plant market, and actively expand its sales efforts to foster partnerships in the synthesis gas and petrochemical field.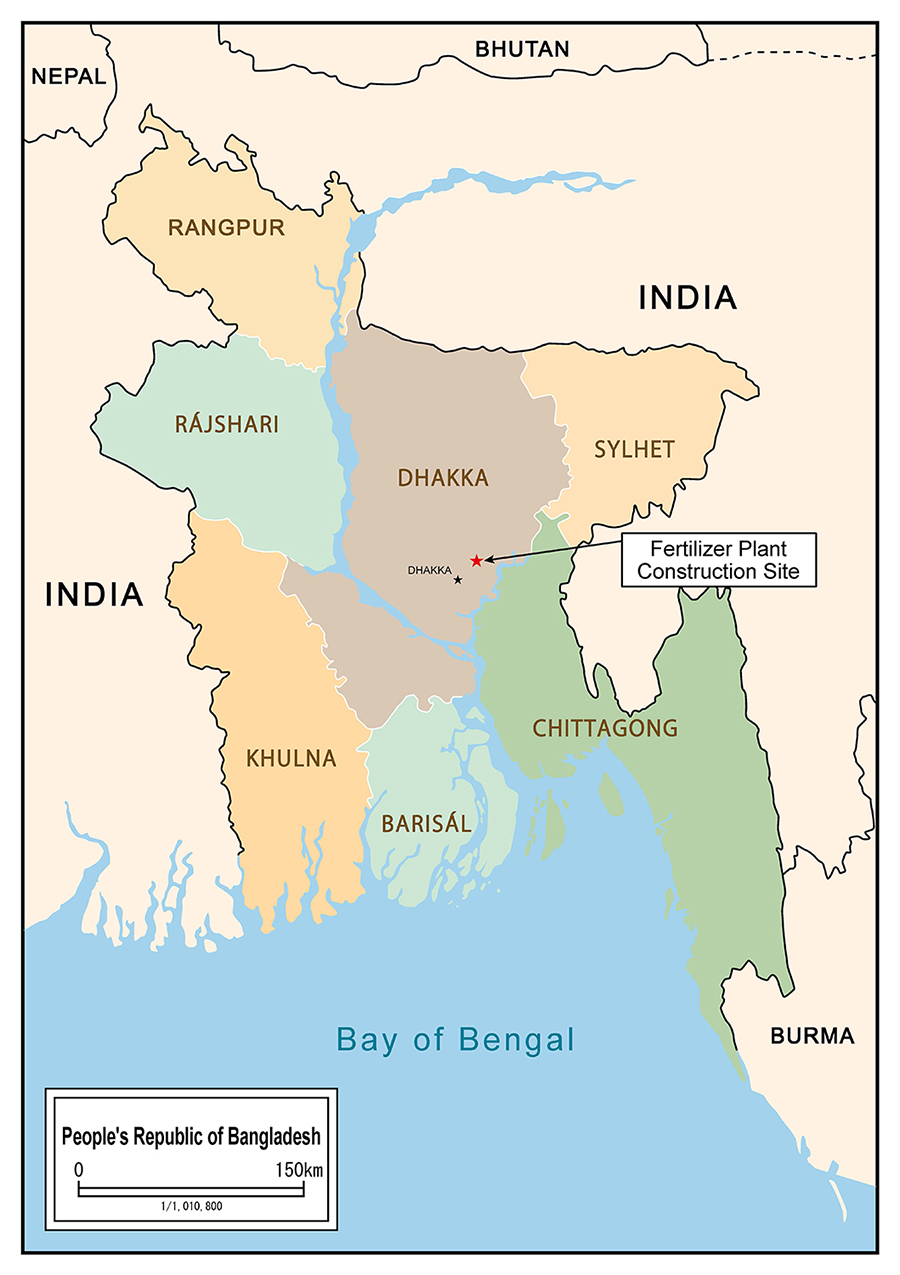 ---
About MHI Group
Mitsubishi Heavy Industries (MHI) Group is one of the world's leading industrial groups, spanning energy, smart infrastructure, industrial machinery, aerospace and defense. MHI Group combines cutting-edge technology with deep experience to deliver innovative, integrated solutions that help to realize a carbon neutral world, improve the quality of life and ensure a safer world. For more information, please visit www.mhi.com or follow our insights and stories on spectra.mhi.com.