Mitsubishi Heavy Industries Machine Tool Co., Ltd. to Release New Gear Grinding Machines, "ZE16C" and "ZE26C"
-- Greater Structural Rigidity, Shorter Non-cutting Time, Lower Running Costs --
・ Response to increasing demand for electric vehicle and robot applications
・ Full-scale market launch with demonstration at JIMTOF 2018
Tokyo, October 18, 2018 - Mitsubishi Heavy Industries Machine Tool Co., Ltd. (MAT), a Group company of Mitsubishi Heavy Industries, Ltd. (MHI) based in Ritto, Shiga Prefecture in Japan, has developed two new gear grinding machines, the "ZE16C" and "ZE26C." The new machines are capable of higher-speed, higher-precision finishing and suited for mass-production. The new models were developed in response to rising demand for high-precision gears used in today's increasingly complex electric vehicles and reduction gears used in robots. By suppressing the gear-tooth shape error measurement to 1μm, the transmission units and gear reducer units' (where the gears are used) fuel performance is enhanced and quieter operation is achieved. The new ZE16C and ZE26C gear grinding machines will be on exhibit at the 29th Japan International Machine Tool Fair (JIMTOF 2018), held at Tokyo Big Sight (Tokyo International Exhibition Center) on November 1, marking the full-scale market launch of the new models.
The ZE16C and ZE26C offer significantly higher performance than the highly acclaimed, preceding "ZE-B" series models (ZE15B and ZE24B). They can respectively accommodate gears with maximum outer diameters of 160 and 260 mm. In addition to faster and more precise machining, non-cutting time is reduced to roughly half that of the earlier models, enabling greater production capabilities and lower running costs. Furthermore, environmental performance and energy savings can be improved with adoption of the industry's first water-soluble coolant system (optional).
Higher grinding precision and stability are achieved thanks to various structural enhancements: these include a newly developed gantry-type counter column (ZE16C), greater rigidity in the table and grinding wheel heads, and a revamped main spindle structure. Productivity has been improved through reduced non-cutting time and faster grinding wheel head rotation speed. In addition, by expanding the maximum wheel width to 160 mm (from 125 mm on earlier models), frequency of wheel replacement is reduced and simultaneous mounting of standard and polishing grinding wheels becomes possible, enabling response to a variety of in-factory needs.
At JIMTOF, the new ZE16C will be on display and perform a gear grinding demonstration (dry run). A demonstration will also be given of MAT's "DIASCOPE" monitoring system, which uses IoT technology to give visibility of real-time production status.
Today, demand for more precise gear finishing and mass production of precision gears is rising amid the shift to electric vehicles, enhancements in noise and fuel performance, and moves toward low-cost production. In addition, most recently demand is expanding for robot reduction gears as development of versatile robots gather momentum. The new ZE-C series has been launched to respond to this growing trend of gear grinding machines requiring ever-higher speed and precision.
Going forward, MAT-the manufacturer with the No.1 market share for gear grinding machines in Japan-will continue to focus on achieving further improvements in technologies and equipment relating to gear grinding.
■Major Specifications of the ZE16C and ZE26C Gear Grinding Machines
MODEL
ZE16C
ZE26C
Maximum workpiece diameter
φ160 mm
φ260 mm
Module(Note1)
1-4 mm
1-6 mm
Wheel size (diameter x length)
φ208-275×160 mm
φ208-300×125 mm
φ208-275×160 mm
φ208-300×125 mm
Rated output of grinding wheel motor
30 kilowatts (kW)
30 kilowatts (kW)
Maximum grinding wheel speed
8,000 revolutions per minute (rpm)
8,000 revolutions per minute (rpm)
Maximum workpiece axis speed
3,000 revolutions per minute (rpm)
2,000 revolutions per minute (rpm)
Axial stroke
295 mm
295 mm
Radial stroke
280 mm
280 mm
Floor space (width x depth) (Note2)
2,170×2,760 mm
2,170×3,005 mm
1

Module is the unit used to indicate gear size. Module = pitch circle diameter (in millimeters) divided by number of teeth.

2

Dimensions do not include those of the coolant device.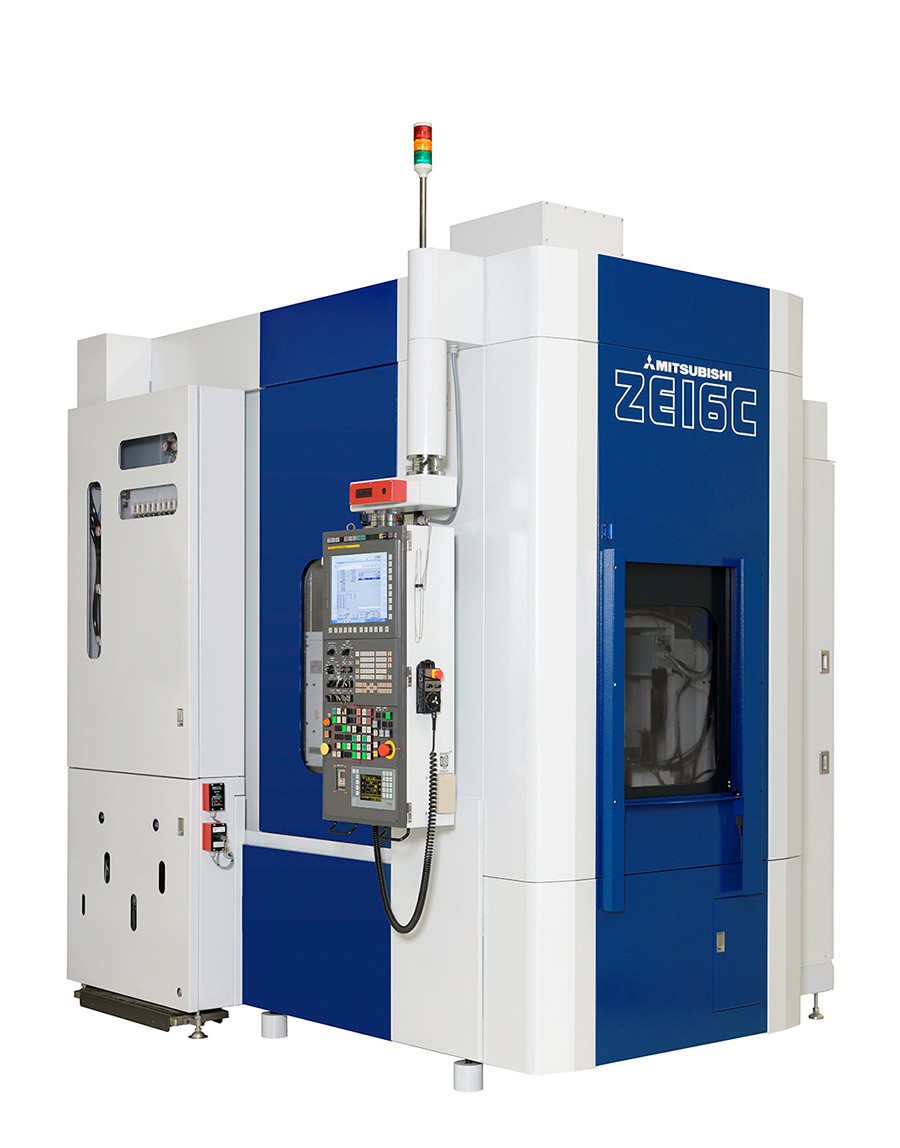 ---
About MHI Group
Mitsubishi Heavy Industries (MHI) Group is one of the world's leading industrial groups, spanning energy, smart infrastructure, industrial machinery, aerospace and defense. MHI Group combines cutting-edge technology with deep experience to deliver innovative, integrated solutions that help to realize a carbon neutral world, improve the quality of life and ensure a safer world. For more information, please visit www.mhi.com or follow our insights and stories on spectra.mhi.com.