MHI Proposing Energy Management Solutions for Development of Western Sydney Region of Australia
-- MOU Signed with New South Wales Government --
・ Solutions utilizing MHI Group product technologies and services to support large-scale urban development project.
・ High quality infrastructure to be provided for planned Sydney airport and surrounding areas.
Tokyo, October 16, 2018 - Mitsubishi Heavy Industries, Ltd. (MHI) yesterday concluded and signed a Memorandum of Understanding (MOU) with the Government of New South Wales in Australia to provide a range of solutions for energy management and other technologies utilizing MHI's products and services, as part of the comprehensive development plan for the Western Sydney region being undertaken by the state.
The MOU was signed by New South Wales Premier Gladys Berejiklian, and for MHI by Ken Kawai, Chief Regional Officer for Asia Pacific and India. The ceremony was attended by ambassadors from both countries, and other dignitaries. The principal objective of the agreement is to provide the New South Wales Government, in conjunction with the Australian Federal Government and eight municipalities in the Western Sydney region, with energy management solutions and the high quality social infrastructure that is a specialty of MHI Group, to support the Second Sydney Airport, scheduled for completion in 2026, and the surrounding area.
The New South Wales Government, which is coordinating the infrastructure development for the region, formulated a plan to decentralize city functions by creating several central business districts (CBDs) in the Sydney metropolitan area. In addition to the Sydney CBDs, the government has begun a second CBD development program by inducing state government agencies to relocate to suburban areas, with participation from leading companies, universities, and research institutions.
MHI Group is proposing an environment-conscious style of urban development that makes full use of advanced technologies and related systems, such as optimal energy management methods for the urban development of Western Sydney, as well as industrial parks and the airport. The proposal makes proactive use of the results from smart community demonstration projects MHI Group undertook for the vicinity of Kyoto Prefecture, and other projects outside Japan.
MHI Group, by creating new business models utilizing advanced energy-saving and low-carbon technologies, is contributing to the further economic development of New South Wales.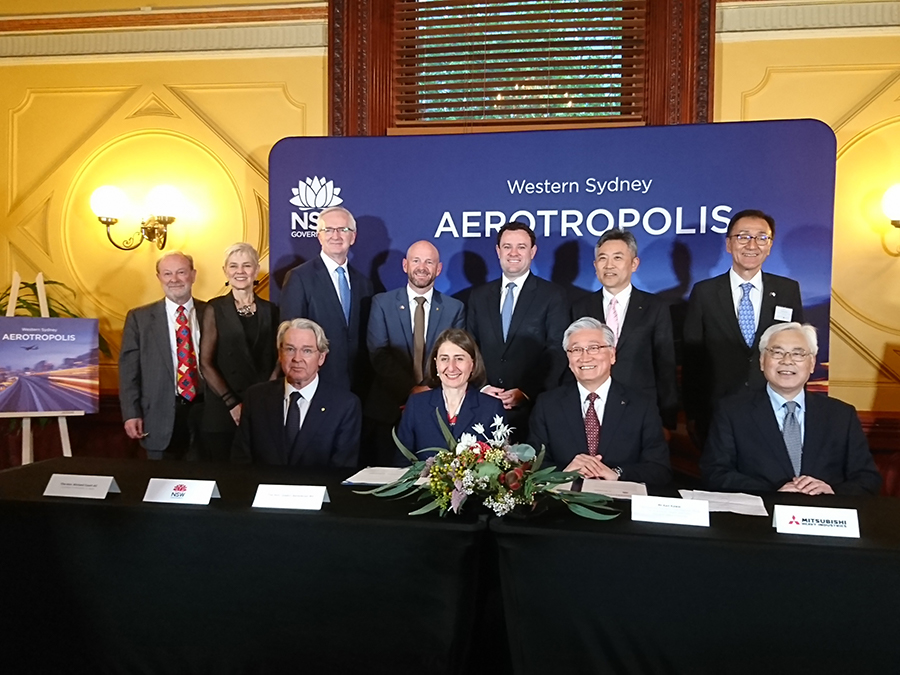 ---
About MHI Group
Mitsubishi Heavy Industries (MHI) Group is one of the world's leading industrial groups, spanning energy, smart infrastructure, industrial machinery, aerospace and defense. MHI Group combines cutting-edge technology with deep experience to deliver innovative, integrated solutions that help to realize a carbon neutral world, improve the quality of life and ensure a safer world. For more information, please visit www.mhi.com or follow our insights and stories on spectra.mhi.com.