Mitsubishi Shipbuilding Holds Christening and Launch Ceremony for Taiheiyo Ferry in Shimonoseki. -- New Kitakami Will Go into Service on Regular Route between Nagoya, Sendai, and Tomakomai --
・"Space Travel" design concept adopted to enhance enjoyment of ship travel experience
・ Near 10% increase in energy efficiency compared to earlier vessel
・ Ceremony to be held at Shimonoseki Shipyard's Enoura Plant, with completion scheduled for January 2019
Tokyo, July 5, 2018 - Mitsubishi Shipbuilding Co., Ltd., a Group company of Mitsubishi Heavy Industries, Ltd. (MHI) based in Yokohama, held a christening and launch ceremony yesterday for Taiheiyo Ferry Co., Ltd's "Kitakami". The vessel will replace the old Kitakami, one of three large ferries providing regular service between the ports of Nagoya, Sendai, and Tomakomai (Hokkaido). By eliminating the large shared cabin, the new ship-carrying on the Kitakami name-will ensure passenger privacy and offer enhanced comfort features. After completion and delivery in January 2019, the new ferry will initially head to port in Nagoya.
The well-attended ceremony was held at the Enoura Plant of MHI's Shimonoseki Shipyard & Machinery Works in Yamaguchi Prefecture. After the formal christening by Taiheiyo Ferry President Yutaka Shiho, the ceremonial rope cutting was performed by three women with close ties to the three ports of call on the Kitakami's regular route.(Note)
Construction of the new Kitakami ferry went underway on September 7, 2017. Featuring eight stories, the vessel is 192.5m in length, 27m wide, and has a gross tonnage of approximately 14,000 tons. The vehicle's decks, occupying the first through fifth stories, have capacity to hold 166 trucks and 146 passenger cars. The sixth and seventh stories are passenger floors with capacity to accommodate 535 persons, including cabins, a restaurant and a large public bath affording outside views. Located on the uppermost eighth story is a bridge and space for the crew. The new Kitakami is the sixth vessel constructed for Taiheiyo Ferry, following delivery of the Ishikari, which travels the same route in March, 2011.
The Kitakami's design concept is "Space Travel." In coordination with the ferry's operation schedule, where passengers board in the evening and travel overnight, the ship was designed to suggest travel through a star-studded sky. To create spaces that, though compact, offer outstanding comfort and enjoyment, eleven cabin types are incorporated. With the exception of private cabins, all rooms replacing the earlier large shared cabin feature capsule-type beds. For environmental harmony, roughly a 10% increase in energy efficiency has been achieved through the adoption of a new, optimal hull type. Construction was subsidized under a program jointly operated by the Ministry of Economy, Trade; and Industry (METI), and the Ministry of Land, Infrastructure, Transport and Tourism (MLIT), and targeted at saving energy in the transportation sector (trucks, ships, etc.).
The new Kitakami will now be moored at the outfitting quay to undergo interior construction work. Once completed, delivery to Taiheiyo Ferry is scheduled for January 20, 2019. After preview showings in Nagoya, Yokohama, Sendai and Tomakomai, the new vessel will go into regular service on January, 25 from Tomakomai to Sendai.
Going forward, Mitsubishi Shipbuilding will continue to construct passenger ships, cargo carriers, and transport vessels that offer superlative transport capacity, comfort, fuel efficiency, and low emissions as it strives toward the vitalization of maritime transport and environmental protection.
Saki Sato (Sendai Goodwill Ambassador 2018), representing Sendai; Motomi Kasai and Maroka Kobayashi (Haskap Lady), representing Tomakomai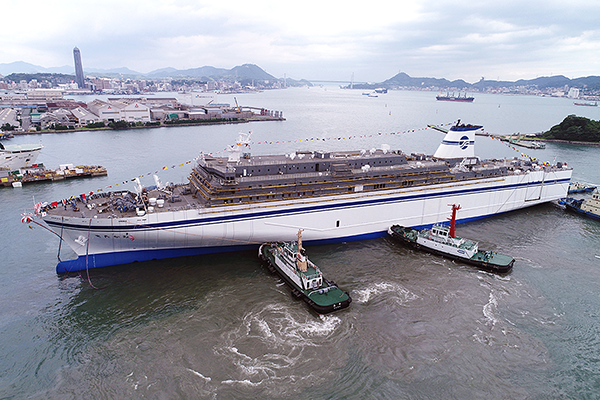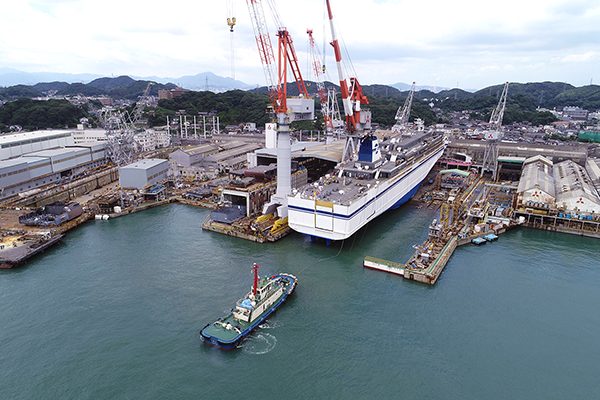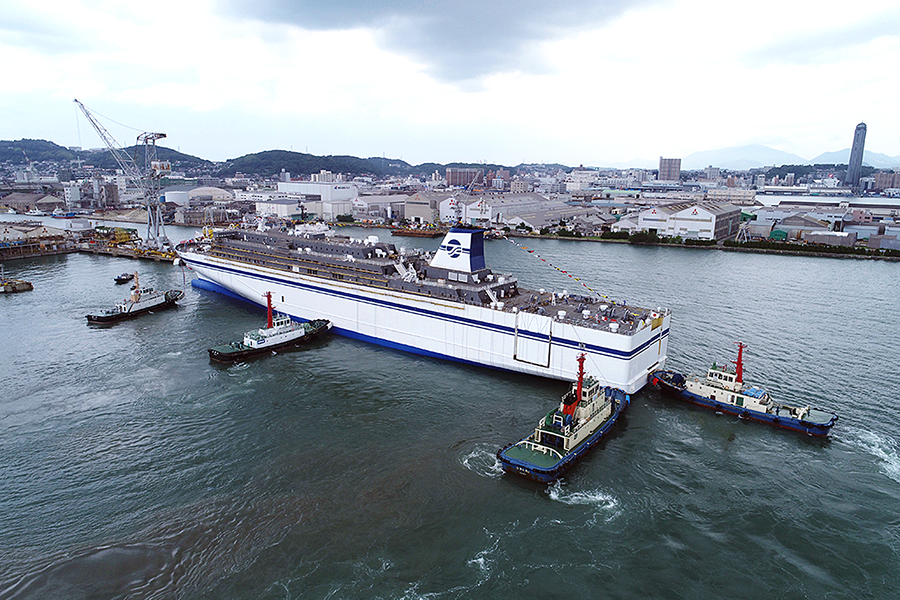 ---
About MHI Group
Mitsubishi Heavy Industries (MHI) Group is one of the world's leading industrial groups, spanning energy, smart infrastructure, industrial machinery, aerospace and defense. MHI Group combines cutting-edge technology with deep experience to deliver innovative, integrated solutions that help to realize a carbon neutral world, improve the quality of life and ensure a safer world. For more information, please visit www.mhi.com or follow our insights and stories on spectra.mhi.com.