MHIEC to Conduct Study on Information Sharing for a Waste to Energy plant in Yokohama
-- Empirical Research Study Utilizing AI and IoT Technologies Begun through a Public-Private Partnership --
Tokyo, July 3, 2018 - Mitsubishi Heavy Industries Environmental & Chemical Engineering Co., Ltd. (MHIEC) , a Group company of Mitsubishi Heavy Industries, Ltd. (MHI), will jointly conduct an empirical research study with the city of Yokohama on introducing AI and IoT technologies in Waste to Energy plants through a public-private partnership. MHIEC will build an operations data network for a Waste to Energy plant linking the plant and the city hall building, and analyze the accumulated data using AI technologies with the aim of achieving more advanced stable operations for Waste to Energy plant.
1.Expected results and utilization
This empirical research project will allow the operational status of the Waste to Energy plant to be monitored in real time at the city hall building using IoT technologies. The operational data will be collected as Big Data, allowing for various types of analysis.
Analyzing this Big Data with AI technologies is expected to provide such functions as failure prediction, more stable operations, and improved power generating capacity. It will also help provide for optimal plant operations, including avoiding problems due to malfunction, and lower maintenance costs.
2.Subject Waste to Energy plant
Resources and Waste Recycling Bureau Tsuzuki Incineration Plant (27-1 Hiradai, Tsuzuki-ku, Yokohama City)
3.Period
July 3, 2018 - March 31, 2019 (331 days)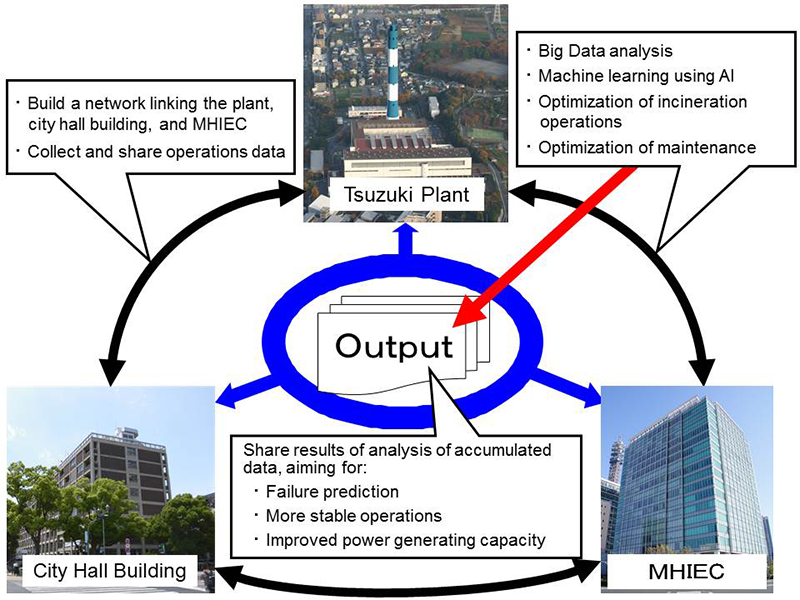 ---
Tags: I&I Domain,Environment
About MHI Group
Mitsubishi Heavy Industries (MHI) Group is one of the world's leading industrial groups, spanning energy, smart infrastructure, industrial machinery, aerospace and defense. MHI Group combines cutting-edge technology with deep experience to deliver innovative, integrated solutions that help to realize a carbon neutral world, improve the quality of life and ensure a safer world. For more information, please visit www.mhi.com or follow our insights and stories on spectra.mhi.com.