Agreement on Demonstration Test Project of Rectangular SOx Scrubber with China COSCO Shipping Corporation Limited.
-- Installation on Large Vessels to Verify Space Saving Feature and High-Efficiency SOx Removal Performance --
Tokyo, June 5, 2018 - Mitsubishi Heavy Industries, Ltd. (MHI), with regards to its rectangular scrubber for large vessels, jointly developed by their group companies, Mitsubishi Shipbuilding Co., Ltd. (Mitsubishi Shipbuilding), and Mitsubishi Hitachi Power Systems, Ltd. (MHPS), has agreed to collaborate closely with COSCO Shipping Heavy Industry (Dalian) Co., Ltd. (CHI Dalian), a subsidiary of COSCO Shipping Heavy Industry Co., Ltd. (CHI, Headquarters: Shanghai), to work in the demonstration test project onto a large vessel owned by China COSCO Shipping.
MHI's advanced SOx Scrubber was jointly developed by its group companies, Mitsubishi Shipbuilding and MHPS(Note). The new product, which can be accommodated in limited installation space onboard, has been developed by combining MHPS' comprehensive exhaust gas treatment technologies and Mitsubishi Shipbuilding's marine engineering expertise. It reduces sulfur dioxide (SO2) in the exhaust gas of 3.5%-sulfur-content fuels to that of 0.1%-sulfur-content fuels, conforming with newly introduced SOx emissions regulations coming into effect globally as of January 1, 2020.
Going forward, MHI, through Mitsubishi Shipbuilding and MHPS, and CHI Dalian shall also proceed in discussions with regards to the manufacturing and sales collaborations related to the rectangular scrubbers.
Mitsubishi Heavy Industries Group also recently introduced an advanced SOx abatement system "ACTIVE FUNNEL," which integrates an exhaust gas scrubbing part into the funnel structure as one of the products applying this rectangular scrubber technology.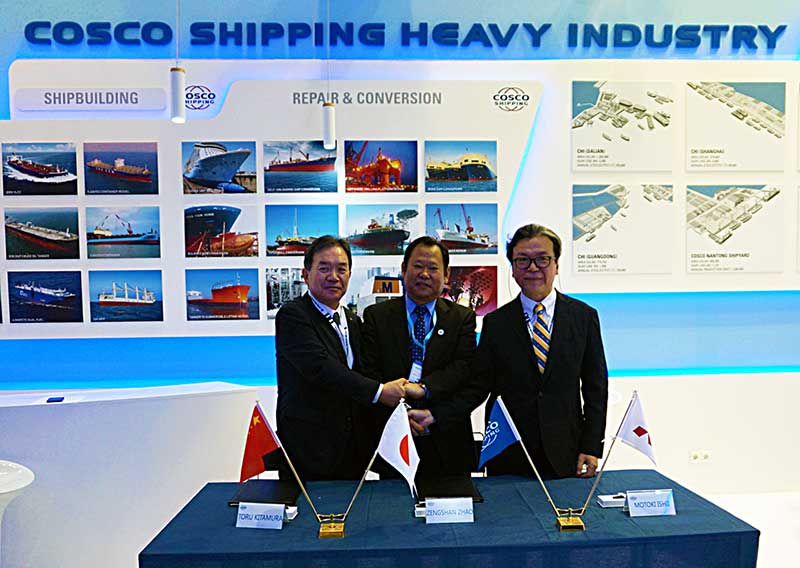 ---
Tags: I&I Domain,Ship & Ocean,Asia
About MHI Group
Mitsubishi Heavy Industries (MHI) Group is one of the world's leading industrial groups, spanning energy, smart infrastructure, industrial machinery, aerospace and defense. MHI Group combines cutting-edge technology with deep experience to deliver innovative, integrated solutions that help to realize a carbon neutral world, improve the quality of life and ensure a safer world. For more information, please visit www.mhi.com or follow our insights and stories on spectra.mhi.com.