MHI Thermal Systems Receives Certification for Automotive SPICE Ver. 3
-- Electric Compressor for Automotive Air Conditioners Compliant with Standard for In-Vehicle Software Development --
・ Enhances MTH's overall competitiveness in Europe and global markets
・ More advanced in-vehicle device software development process in line with the rapid computerization of automobiles
Tokyo, May 24, 2018 - MHI Thermal Systems, Ltd. (MTH), a Group company of Mitsubishi Heavy Industries, Ltd. (MHI), has received certification for its electric compressor for automotive air conditioners as compliant with Version 3 (Level 3) of Automotive SPICE (Software Process Improvement and Capability dEtermination), the industry standards for the in-vehicle software development process jointly formulated by European car manufacturers (finished vehicles). Certification was provided by DNV GL, a third-party certifying body based in Norway, and will enhance MTH's overall competitiveness in Europe and the global market.
The certification for Automotive SPICE Ver. 3 verifies Level 3 compliance for 17 processes, including project management, software requirement analysis, software architecture design, software integration and integration testing, software competency testing, and quality assurance.
MHI Thermal Systems merged with MHI Automotive Thermal Systems, Co., Ltd. (MCCJ), a specialist in automotive air-conditioning systems, effective January 1, 2018. The consolidation of technologies and business resources broadened the business scope and enhanced efficiency, and the company has worked to strengthen its global competitiveness. This certification is a reflection of those measures, and going forward MTH will utilize its objectively verified advanced technology development capabilities to target the automobile manufacturers for whom Automotive SPICE Ver. 3 certification is an essential requirement in a supplier, and uncover demand in Japanese and overseas markets for increasingly sophisticated car air conditioner electronic control technologies.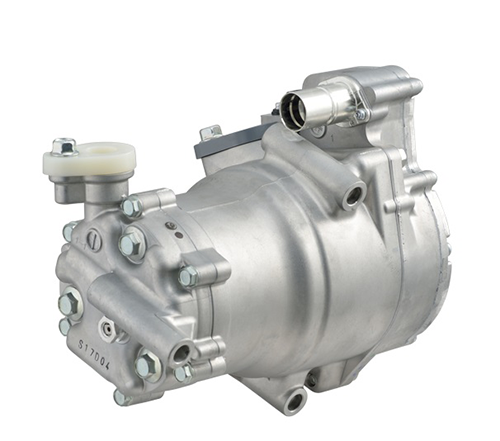 Electric Compressor for Automotive Air Conditioners
---
About MHI Group
Mitsubishi Heavy Industries (MHI) Group is one of the world's leading industrial groups, spanning energy, smart infrastructure, industrial machinery, aerospace and defense. MHI Group combines cutting-edge technology with deep experience to deliver innovative, integrated solutions that help to realize a carbon neutral world, improve the quality of life and ensure a safer world. For more information, please visit www.mhi.com or follow our insights and stories on spectra.mhi.com.