Third Factory and Electrical Components Plant Completed at Thai Joint Venture MACO 
-- Mitsubishi Heavy Industries Thermal Systems Expands Production to Strengthen Global Business Development for A/C Units --
・ Completion ceremony held on February 7
・ Expansion in production capacity to increase production to 2.7 million pieces by fiscal 2020, a 30% increase compared to fiscal 2015
・ Total investment of approximately ¥3.0 billion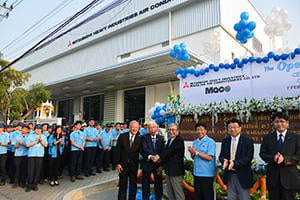 Tokyo, February 7, 2018 - Mitsubishi Heavy Industries, Ltd. (MHI) Group company, Mitsubishi Heavy Industries Thermal Systems, Ltd. (MTH), has expanded production at Mitsubishi Heavy Industries-Mahajak Air Conditioners Co., Ltd. (MACO), its joint venture company in Thailand to manufacture and sell residential and commercial use air conditioning systems. Facilities at the two existing factories have been expanded and upgraded, and construction completed and production begun at a new third factory and electrical assembly works. The aim of the capacity expansion is to further develop MACO to be a central production facility to meet growing demand worldwide for residential and facommercial air conditioners, especially in Asia.

A completion ceremony was held at the factory site on February 7. MACO President Masahiko Sasakura was accompanied by guests from MHI by Kazuaki Kimura, Senior Executive Vice President, President and CEO of Industry & Infrastructure business domain, from MTH by Senior Executive Vice President Kimiharu Takeda, and from the Mahajak Group, the local partner in MACO, Chairman Chavalit Kanchanachayphoom to cut the ribbon to announce the open of the new facilities.

MACO was established in 1988, and has production facilities in the Ladkrabang Industrial Estate in the suburbs of Bangkok. Total investment for the production expansion was approximately ¥3.0 billion. Of the two newly-built facilities, the third factory will manufacture plastic and sheet metal parts for residential and commercial air conditioners, while the electrical assembly works will mount the electric parts on the electrical boards, which is one of the key components of air conditioners.
 
The increase in production capacity is expected to boost production volume to 2.7 million pieces by fiscal 2020, a 30% increase compared to fiscal 2015. It will also enhance productivity through changes in facilities and production methods, and synchronization of assembly, as well as strengthen cost competitiveness and reduce inventories of work in process and finished products.

Mitsubishi Heavy Industries Thermal Systems focuses on establishing an optimal production structure, such as this investment to expand production and enhance efficiency at MACO, in order to secure a competitive advantage in world markets. At the same time, as a specialist heating and cooling company, it is dedicated to developing highly competitive products that make everyday lives better for people, offering innovative thermal solutions, and contributing to the conservation of the global environment.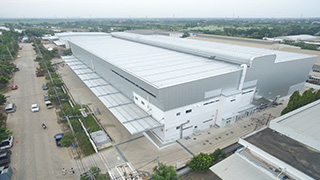 Third Factory
Electrical Components Plant
---
About MHI Group
Mitsubishi Heavy Industries (MHI) Group is one of the world's leading industrial groups, spanning energy, smart infrastructure, industrial machinery, aerospace and defense. MHI Group combines cutting-edge technology with deep experience to deliver innovative, integrated solutions that help to realize a carbon neutral world, improve the quality of life and ensure a safer world. For more information, please visit www.mhi.com or follow our insights and stories on spectra.mhi.com.