MHI Thermal Systems Adds Large-capacity 20HP "HCCV2001M" Model to Lineup of Commercial Refrigeration Condensing Units That Use Natural Refrigerant
・ Marketing to commence in April 2018, to respond to increasing fluorocarbon-free demand
・ Large-capacity response offering same space-saving features as previous 10HP type
・ Proprietary two-stage compressor delivers stable refrigeration and high efficiency
Tokyo, December 14, 2017 - Mitsubishi Heavy Industries Thermal Systems, Ltd. (MHI Thermal Systems) has added a large-capacity 20 horsepower (HP) model, the "HCCV2001M," to its lineup of "C-puzzle" fluorocarbon-free commercial refrigeration condensing units that use the natural refrigerant of carbon dioxide (CO2). The new model responds to demand from the cold-storage warehouse industry for large-capacity condensing units accommodating CO2 refrigerants as a result of the recently introduced Fluorocarbons Emission Control Law*. The new HCCV2001M is scheduled to go on sale in Japan from in April 2018.

The HCCV2001M is equipped with two units of a proprietary two-stage compressor integrating a scroll compressor and a rotary compressor. The same units are used in the highly acclaimed 10HP "HCCV1001" model launched in April 2017. The scroll compressor, which offers outstanding efficiency during high-pressure loads, is positioned on the upper-stage side, and the rotary compressor, offering excellent efficiency with modest load pressures, is on the lower-stage side. The adoption of gas injection by a gas-liquid separator in the intermediate-pressure vessel ensures refrigerating capacity and high efficiency throughout the HCCV2001M's operating range. Together these features eliminate problems relating to the high operating pressures that are unavoidable with use of a CO2 refrigerant. In addition, the adoption of middle-range pressure when transporting the refrigerant enables reduced on-site construction costs. Also, since the condensing unit can be operated in an ambient range of -15°C to +43°C with an operating temperature range of -45°C to -5°C, it can accommodate diverse refrigeration and freezing needs.

To meet demand for easy replacement of existing systems, the HCCV2001M features a maximum pipe length of 100 meters (m). Furthermore, the adoption of the same external dimensions as the outdoor units of MHI Thermal Systems' multi system commercial air-conditioners enables mixed installations with condensing units.

The C-puzzle's R744 CO2 refrigerant has an ozone depletion potential (ODP) of zero and global warming potential (GWP) of 1, so the HCCV2001M contributes significantly to protecting the ozone layer and curbing global warming, particularly in comparison with the hydrochlorofluorocarbons (HCFC) and hydrofluorocarbons (HFC) in wide use today. Under the Fluorocarbons Emission Control Law, by 2025 all commercial condensing units with a refrigerating capacity above 1.5 kilowatts (kW) (approx. 2HP) will be required to use refrigerants with a GWP below 1500. CO2 refrigerants have the strong advantage of not being affected by increasingly stringent regulations.

Since enactment of the Fluorocarbons Emission Control Law, replacement needs are intensifying for more efficient products that protect the environment. The new 20HP type condensing unit is expected to attract robust demand from large-scale warehouses and supermarkets. Also, since the unit's installation space is identical to that of the 10HP unit, space savings can be realized. Continuous side-by-side installations also enable response to large-capacity requirements.

Going forward, MHI Thermal Systems will continue to focus on developing high-performance products that use low-GWP refrigerants and natural refrigerants, further expanding its lineup to protect the environment.
Specifications
Product name
HCCV2001M (20HP)
Usage
Refrigeration
Power supply
3-phase 200V 50/60Hz
Refrigerant
R744 (carbon dioxide)
Ambient temperature range
-15℃ to 43℃
Operating temperature range
-45℃ to -5℃
Tonnage
5.96
Design pressure
High 14MPa / Low 8MPa
Compressor system
Type
Two-stage
Drive
DC inverter
No. of units
2
Outer dimensions (W×D×H)
1,350×720×1,690 mm
Weight
470kg
Note: Formally known as the "Act on Rational Use and Proper Management of Fluorocarbons," this is a totally revised update, carried out in April 2015, to the Fluorocarbons Recovery and Destruction Law enacted in 2001. The new legislation makes it obligatory to take measures to prevent leakage of the fluorocarbons used as a refrigerant in air-conditioners and refrigeration systems throughout the lifecycle: from manufacture to usage, recovery and treatment. It also makes it mandatory for all businesses and users involved with fluorocarbons to record, preserve, etc. their equipment inspection and repair histories. Manufacturers and importers of fluorocarbons and equipment manufacturers are also called on to convert to fluorocarbon substitutes with a low GWP.
■Commercial refrigeration condensing unit adopting CO2 refrigerant「HCCV2001M」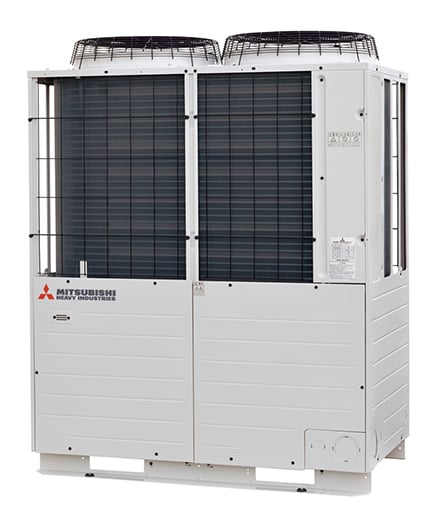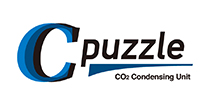 ---
Tags: C-puzzle,refrigeration condensing unit,energy saving,fluorocarbon-free