Mitsubishi Heavy Industries Marine Machinery & Equipment and Wärtsilä to collaborate on improved power and propulsionsolution
Tokyo, December 12, 2017 - Mitsubishi Heavy Industries Marine Machinery & Equipment Co., LTD (MHI-MME) and the smart technology group Wärtsilä have signed a Memorandum of Understanding (MOU) regarding the commercial marketing of a new energy solution for ships. The solution combines innovative technologies from both companies to produce greater power generation capacity and higher propeller propulsion for marine vessels.
By integrating MHI-MME's waste heat recovery and energy saving power generation system (WHRS) with Wärtsilä's operational control technology for shaft generator systems, the new solution results in more energy efficient ship navigation and an improved Energy Efficiency Design Index (EEDI).
A notable innovation is the combining of a power take off/take in (PTO/PTI) shaft generator system with WHRS to improve the stability of the WHRS. Depending on the load of the main engine and the ship's network, the WHRS sometimes produces electrical energy in excess of that needed by the network. Such energy can be utilised via the PTO/PTI generator to drive the propeller shaft. At full load, the surplus energy can be used to assist the ship's drive by being applied directly to the propeller shaft. At low main engine load, the WHRS can be operated in parallel with a diesel generator set. Parallel operation with a shaft generator via PTO operation is also easily implemented.

The patented design connects the WHRS generator into the DC link circuit of the PTO/PTI shaft generator rather than directly into the mains. This allows operation of the WHRS at reduced speed to create higher efficiency of the turbine system at part load. In so doing, it avoids the necessity of speed regulation valves, which cause throttle or bypass losses.

MHI-MME has various energy saving technologies and all of those fit for this new solution. One example is integration with MHI-MME's power turbine generator and this combination enables to supply electricity across a range from approximately 500 to 2,000 kilowatts (kW), driven by gas extracted from a 2-stroke main engine, via the PTO/PTI generator.

MHI-MME's solutions have until now consisted of waste heat recovery systems and Organic Rankine Cycle (ORC) systems, which are small-scale binary power generation systems that efficiently recover and use extremely low-temperature heat sources. Applications have primarily focused on large container ships. Now, with addition of the latest solution, MHI-MME will offer an even wider array of energy-saving solutions for ships that have conventionally employed shaft generators, to help them comply with the more stringent environmental regulations to go into effect in the near future.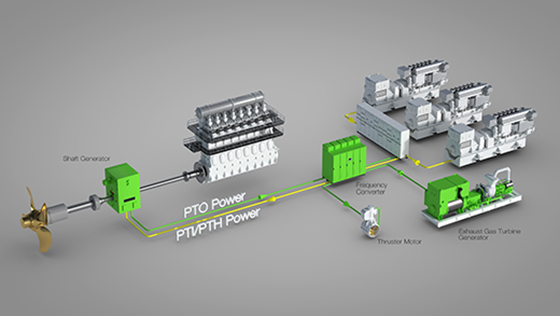 ---
About MHI Group
Mitsubishi Heavy Industries (MHI) Group is one of the world's leading industrial groups, spanning energy, smart infrastructure, industrial machinery, aerospace and defense. MHI Group combines cutting-edge technology with deep experience to deliver innovative, integrated solutions that help to realize a carbon neutral world, improve the quality of life and ensure a safer world. For more information, please visit www.mhi.com or follow our insights and stories on spectra.mhi.com.