MHI-TES to Supply Miyazaki Airport with New Passenger Boarding Bridges
-- Equipment Supports the Miyazaki Airport Renovation Project --
・ Order for 5 new Passenger Boarding Bridges to be delivered by December 2017
・ Innovative design allows greater access for small aircraft and improved passenger mobility
・ Supports Miyazaki Airport Renovation Project targeting increased inbound tourism
Tokyo, November 16, 2017 – Mitsubishi Heavy Industries Transportation Equipment Engineering & Service Co., Ltd. (MHI-TES), a group company of Mitsubishi Heavy Industries, Ltd. (MHI), has received an order for five passenger boarding bridges (PBBs) from Miyazaki Airport Building Co., Ltd. The order consists of two Long PBBs able to accommodate small aircraft, the first of their type in Japan, as well as three STEPLESS PBBs with completely barrier-free corridors that were first developed by MHI-TES. Installation of the PBBs began in September this year in parallel with other airport renovation work and will be completed in December.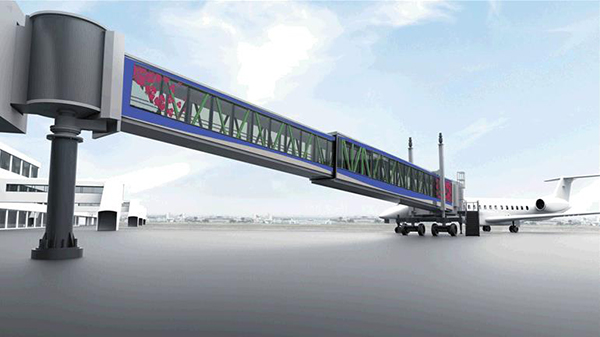 [Long PBB for Small Aircraft]
The two Long PBBs were jointly developed by Miyazaki Airport and Mitsubishi Heavy Industries Transportation Equipment Engineering & Service Co., Ltd., a group company of MHI-TES. In order to accommodate both regular and small-sized passenger aircraft (such as the DHC8-400) in service at Miyazaki Airport, the design of the PBB, including the head structure, lifting apparatus, running gear, and tunnel portion, was holistically revised to allow connection to all types of regular and small-sized aircraft while still maintaining the gentle slope angle required for PBB standards. Conventional PBBs cannot be directly connected to smaller passenger aircraft of 80 seats or fewer. The newly-developed design solves this problem to create a truly passenger-friendly solution.

The STEPLESS PBBs eliminate the ramp placed between tunnels that had been considered unavoidable due to the conventional structure of PBBs, which consist of a larger outer tunnel corridor and smaller inner tunnel that extends and retracts. The new design has fully flat floors for both the outer and inner passageways. This is achieved by eliminating the ramp and expanding the passageway by covering-up the rain gutters normally located on either side of the outer tunnel corridor. This creates a completely barrier-free space which facilitates smooth and safe mobility, including for passengers using wheelchairs.
 
As Japan seeks to increase the number of inbound visitors to 40 million by 2020, Miyazaki Airport is building international flight facilities scheduled for completion in March 2019, and has begun renovations on its domestic terminal. One of the STEPLESS PBBs was installed in October 2017, in an area reserved for international flights, allowing overseas passengers to travel in comfort. Two of the long PBBs are being installed for domestic flights, and two existing PBBs are being upgraded to STEPLESS PBBs, allowing passengers on all domestic flights to travel directly from the terminal building through PBBs, without having to walk or use buses.
---
About MHI Group
Mitsubishi Heavy Industries (MHI) Group is one of the world's leading industrial groups, spanning energy, smart infrastructure, industrial machinery, aerospace and defense. MHI Group combines cutting-edge technology with deep experience to deliver innovative, integrated solutions that help to realize a carbon neutral world, improve the quality of life and ensure a safer world. For more information, please visit www.mhi.com or follow our insights and stories on spectra.mhi.com.