MHI-PPM Receives Order for Three Sets of "DIAMONDSPIRIT" Newspaper Offset Presses from Hokkaido Shimbun
-- Presses to Be Installed at Main Printing Facility --
Tokyo, September 5, 2017 - Mitsubishi Heavy Industries Printing & Packaging Machinery, Ltd. (MHI-PPM), a Group company of Mitsubishi Heavy Industries, Ltd. (MHI) based in Hiroshima, has received an order for three sets of "DIAMONDSPIRIT" newspaper offset presses from The Hokkaido Shimbun Press, a newspaper company headquartered in Sapporo. The new presses are to be installed successively at the main printing facility of the company's subsidiary Doshin Sogo Printing in Kitahiroshima, Hokkaido, between July 2018 and September 2019.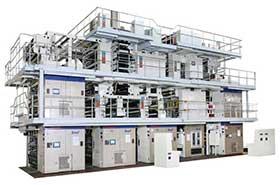 DIAMONDSPIRIT presses feature compact plate cylinders with a 1-page circumference, compared to the 2-page circumference common on conventional presses. The smaller diameter reduces by half the volume of printing plates set to the plate cylinder, while also lowering power consumption and space requirements.

The origins of the Hokkaido Shimbun Press began with the publication of the Hokkai Shimbun in Sapporo in January 1887. The company was established on November 1, 1942, with the founding of the Hokkaido Shimbun following the merger of 11 newspaper companies in Hokkaido, and celebrates its 75th anniversary this year. Commonly referred to as "Doshin," circulation of the Hokkaido Shimbun daily morning edition currently exceeds one million copies. The company also publishes Doshin Sports and other specialty newspapers. Its subsidiary printing company has six locations throughout Hokkaido, and also prints national and regional papers under contract.

This latest order for newspaper offset presses is the first MHI-PPM has received from the Hokkaido Shimbun Press in 16 years, since those for its Asahikawa plant in 2001. The company selected the DIAMONDSPIRIT, with its track record of over 40 presses delivered and in operation, based on such factors as reliable performance, high printing quality, and low running costs. The installation will be conducted while existing MHI presses remain in operation, and MHI-PPM will make a concerted effort to achieve this difficult project and meet the expectations of the Hokkaido Shimbun Press.

MHI-PPM will be become part of Mitsubishi Heavy Industries Machinery Systems, Ltd. on October 1, 2017, but going forward will build on this order to enhance its focus on providing specific solutions-based marketing, uncover diverse customer needs for newspaper offset presses both in Japan and worldwide, and support the newspaper industry.
---
About MHI Group
Mitsubishi Heavy Industries (MHI) Group is one of the world's leading industrial groups, spanning energy, smart infrastructure, industrial machinery, aerospace and defense. MHI Group combines cutting-edge technology with deep experience to deliver innovative, integrated solutions that help to realize a carbon neutral world, improve the quality of life and ensure a safer world. For more information, please visit www.mhi.com or follow our insights and stories on spectra.mhi.com.