Mitsubishi Heavy Industries Relocates Air-Conditioning & Refrigeration Systems Operations to Kobe
-- New Site Offers Advanced Technology and Production Resources --
Tokyo, September 4, 2017 - Mitsubishi Heavy Industries Thermal Systems, Ltd., has relocated its air-conditioning & refrigeration (AC&R) systems operations, which covers products like centrifugal chillers and heat source controllers, from Takasago to Kobe. Operations at the new site, which will be named "MHI Thermal Systems Kobe Works", began today. The relocation is part of MHI Group's business strategy for expanding scale and earnings in its growth businesses. The Kobe region functions as a key base for MHI's Industry & Infrastructure domain, and was selected for its technology and resources which will further enhance MHI Thermal Systems' global competitiveness.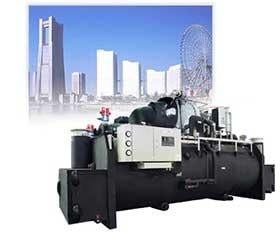 The new large chiller plant encompasses various buildings dedicated to assembly, power supply station, and trial operations, etc. Each is equipped with the latest testing equipment and can produce and assess a wide range of products. The engineering, design and service operations have been moved to new building within the same site, which was completed in March. The site also houses Mitsubishi Heavy Industries Mechatronics Systems, Ltd. (MHI-MS), as well as MHI's Research & Innovation Center and ICT Solution Headquarters.

With the solid domestic demand for centrifugal chillers in Japan, MHI Thermal Systems continues to pursue energy-saving performance, as demanded by customers, and products that adopt environmentally sound refrigerants. Overseas demand is significantly higher than in the domestic market, with continued rapid growth. This means overseas market share is being prioritized and the company aims to expand its lineup of even more competitive products. Production strategies to achieve this are to be implemented at the MHI Thermal Systems Kobe Works, as well as at overseas production bases.

With its relocation to Kobe, MHI Thermal Systems' capabilities in thermal engineering will be further enhanced and applied to the development of advanced centrifugal chillers. This will be accomplished through integration of the expansive technologies and production infrastructure for hydraulic machinery, machinery systems, steel structure plants and intelligent transport systems (ITS) held by MHI-MS with the R&D functions of MHI's Research & Innovation Center and ICT Solution Headquarters. The new set-up will also improve MHI Thermal Systems' maintenance and after-sale servicing functions for systems after their delivery.

MHI Thermal Systems is Japan's No.1 manufacturer of centrifugal chillers, with total orders to date for its high-efficiency systems exceeding 3,000 units. Going forward, by further enhancing its highly advanced products the company will focus on further advancing its position in the global market.
---
About MHI Group
Mitsubishi Heavy Industries (MHI) Group is one of the world's leading industrial groups, spanning energy, smart infrastructure, industrial machinery, aerospace and defense. MHI Group combines cutting-edge technology with deep experience to deliver innovative, integrated solutions that help to realize a carbon neutral world, improve the quality of life and ensure a safer world. For more information, please visit www.mhi.com or follow our insights and stories on spectra.mhi.com.