MHIEC Receives Order to Refurbish Ariake Waste-to-Energy Plant in Tokyo -- Renovation to Extend Service Life of the 400 tpd MSW Facility --
Tokyo, August 31, 2017 - Mitsubishi Heavy Industries Environmental & Chemical Engineering Co., Ltd. (MHIEC) has received an order from the Clean Authority of TOKYO, a local government authority, to refurbish core components at the Ariake Waste-to-Energy (WtE) Plant, a municipal solid waste (MSW) incineration plant. The order is for refurbishment of stoker type incinerators(Note1) to extend their service life and enhance energy efficiency.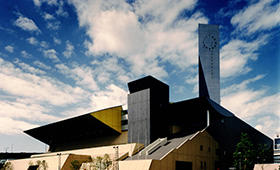 The Ariake WtE Plant is the first facility for which the Clean Authority of TOKYO has ordered a refurbishment of core components. The project is valued at 3,203 million Japanese yen (excluding tax), and scheduled for completion in February 2020. The plant was designed and built by MHI, and completed in December 1995. It comprises two stoker incinerators each with capacity of 200 tpd, and can generate up to 5,600 kilowatts (kW) of electricity.

The order covers the replacement and upgrading of superannuated components at the facility, including equipment for refuse feeding, ash treatment, waste water treatment, draft fan, duct, and dust collection, as well as electric instrumentation and water supply systems. The project will also enhance energy efficiency through the use of an exhaust gas treatment system that incorporates MHIEC's proprietary technologies to lower power consumption by reducing the load of bag filters, as well as the use of high-efficiency motors and inverters. These measures will reduce total annual CO2 emissions by more than 3%.

The Clean Authority of TOKYO was established in April 2000 to take over management and operation of waste and night soil treatment facilities from the Tokyo Metropolitan Government. The organization currently manages 21 plants in the city, including facilities undergoing renovation.

Renovation and upgrades to WtE plants are increasing, aiming to extend service life as well as reduce environmental impact. The introduction of a related subsidy system in 2015 by the Japanese national government has also accelerated this trend.(Note2)

MHIEC assumed responsibility of MHI's waste treatment plant business in 2008, acquiring MHI's accumulated technological development capabilities in environmental protection systems, and its abundant expertise in the construction and operation of waste management facilities both in Japan and overseas. Based on this strong track record, MHIEC is well placed to provide comprehensive solutions from plant construction to operation.

Note1. A stoker furnace is the main type of MSW incineration plant. MSW is combusted as it moves along on a fire grate made of heat-resistant castings.

Note2. This program, administered by Japan's Ministry of the Environment, promotes effective use of existing waste treatment facilities to address the issue of global warming. Local governments seeking to extend the operational life of their MSW facilities are eligible for subsidies covering one-third to one-half of project costs, depending on the degree of CO2 reduction.
---
About MHI Group
Mitsubishi Heavy Industries (MHI) Group is one of the world's leading industrial groups, spanning energy, smart infrastructure, industrial machinery, aerospace and defense. MHI Group combines cutting-edge technology with deep experience to deliver innovative, integrated solutions that help to realize a carbon neutral world, improve the quality of life and ensure a safer world. For more information, please visit www.mhi.com or follow our insights and stories on spectra.mhi.com.