MHI Receives Order for 66 New-Type Carriages for "Astram Line" Automated Guideway Transit System in Hiroshima
-- Cars to Replace Current Carriages, with Deliveries Commencing in FY2019 –
・ Deliveries will commence in fiscal 2019 and will complete in fiscal 2025.

・ New-type carriages incorporate a raft of technologies to achieve benefits for operator and passenger

・ MHI will continue to promote its Automated Guideway Transit (AGT) offerings for new urban transit systems and airports both in Japan and around the world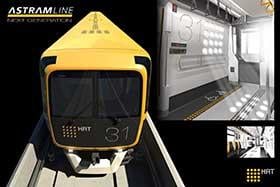 Tokyo, July 14, 2017 - Mitsubishi Heavy Industries, Ltd. (MHI) has received an order from Hiroshima Rapid Transit Co., Ltd. for 66 carriages (11 trains) to be used on the Hiroshima New Transit Line 1, also known as the "Astram Line," an Automated Guideway Transit (AGT) system operating in Hiroshima City. The AGT vehicles on order will replace carriages that have been in service since the Astram Line was inaugurated in 1994. Deliveries are slated to commence in the 2019 fiscal year and will be completed in fiscal 2025.

The newly ordered carriages incorporate MHI's proprietary all-aluminum-alloy, double-skin structure known as "Al-Fine," which offers advantages in terms of light weight, outstanding durability and easy recycling. They also use MHI's innovative "T-smover" bogies; these serve to increase riding comfort by reducing the carriage's swaying motion. The new cars are further equipped with MHI's specially designed "G-Fit" semi-high-back bucket type seats which provide outstanding body support while naturally encouraging seated passengers to keep their legs tucked in close so as to avoid extending them into the aisle space. The interior design delivers an optimal riding environment with attention to the finest of details. Going forward, the Company will continue to work closely with the customer to achieve higher levels of comfort, safety and security, all while maintaining the overall image of the Astram Line, now a well-established symbol of Hiroshima.

Hiroshima Rapid Transit was founded in 1987 under a joint initiative involving both the private and public sectors, led by the municipal authorities of Hiroshima, to operate a new urban transit system in the city. The company's Astram Line presently connects Hondori Station in the city center with Koiki-koen-mae Station in Hiroshima's northwestern outskirts, a total distance of 18.4 kilometers (11.4 miles)—making the Astram Line the longest AGT system in operation in Japan. Daily ridership averages some 63,000 passengers. The chrome yellow color of the carriages was selected to convey peace, a befitting symbol for Hiroshima.

AGT systems are designed to make effective use of space above roadways, and since 1981 they have been introduced in numerous Japanese cities. Their use of rubber tires results in minimal noise and vibration, making AGTs environmentally harmonious with their surroundings.

To date MHI has delivered three models in its AGT carriage lineup: the "7300 Series," featured on Tokyo's Yurikamome Line, which won a "Good Design Award" in 2014 for enhancing the image of public transport; the "330 Series," used on the Nippori-Toneri Line in Tokyo, which is helping to alleviate congestion through exclusive use of long seats in all cars; and the "2020 Series," in service on the "New Shuttle" (Ina Line) in Saitama Prefecture, which also received a "Good Design Award" in 2016, acclaimed for being the aesthetic equal of the Shinkansen, which runs on parallel tracks. MHI also has a significant record of AGT carriage deliveries to major hub airports in the United States, Asia and the Middle East.

Buoyed by this latest order from Hiroshima Rapid Transit, MHI will continue to promote its AGT offerings for new urban transit systems and airports both in Japan and around the world.
---
About MHI Group
Mitsubishi Heavy Industries (MHI) Group is one of the world's leading industrial groups, spanning energy, smart infrastructure, industrial machinery, aerospace and defense. MHI Group combines cutting-edge technology with deep experience to deliver innovative, integrated solutions that help to realize a carbon neutral world, improve the quality of life and ensure a safer world. For more information, please visit www.mhi.com or follow our insights and stories on spectra.mhi.com.