MHI Cooperates with "Changshu Innovation Center for Green & Intelligent Manufacturing" Opened by Changshu City, Jiangsu Province, China
Tokyo, July 11, 2017 - Mitsubishi Heavy Industries, Ltd. (MHI) will cooperate with the Changshu Innovation Center for Green & Intelligent Manufacturing, a research and exchange base opened in Changshu City, Jiangsu Province, China on July 11. The center was established to promote manufacturing in the city and MHI will dispatch technical group personnel and exhibit and introduce its technologies and products.
The center is based in the Changshu National New & Hi-tech Industrial Development Zone (CNZ), the city's industry promotion organization. This location was chosen to promote factors such as the commercialization of R&D and technical results, and the development of human resources through collaboration with many companies, universities, and research institutes.

MHI has placed Mitsubishi Heavy Industry (Changshu) Machinery Limited Company, a "shared factory" type plant in the CNZ, and started production of rubber and tire machinery from 2010, and gear machine tools from 2011. Currently, the MHI group companies Mitsubishi Heavy Industries Machinery Technology Corporation (MHIMT) (President: Mamoru Hasegawa, Head Office: Nishi-ku, Hiroshima) and Mitsubishi Heavy Industries Machine Tool Co., Ltd. (President: Keiichiro Iwasaki, Head Office: Ritto, Shiga) are responsible for manufacturing the two groups of products, respectively.

The technologies and products that MHI will exhibit and introduce include cogeneration systems, machine tools, tire machinery, and battery-type forklifts. In addition, MHI will display turbochargers in the automotive field; heat pumps, turbo refrigerators, and micro removers (environmental equipment that processes sewage sludge using centrifugation technology) in the air-conditioning and refrigeration field; and organic EL (electroluminescence) lighting. Such products are currently the subject of great interest in China and Jiangsu Province, and MHI will introduce related technologies and products that contribute to protection of the environmental and energy efficiency.

In 2015 the Chinese government announced the "Made in China 2025" roadmap which aims to make China a global manufacturing powerhouse by 2025. As part of this roadmap, it was planned to establish manufacturing innovation centers in manufacturing industry priority areas across the country, and there is a trend toward smart factories. It is hoped that the Changshu Innovation Center for Green & Intelligent Manufacturing will become a base for the growth of manufacturing in Jiangsu Province, which boasts China's 2nd highest regional GDP and GDP per capita.

As a global manufacturing group, MHI aims to further deepen its ties in Changshu City and Jiangsu Province through dispatching technical personnel and exhibiting products at the center, contributing to the development of manufacturing in the region.
Changshu Innovation Center for Green & Intelligent Manufacturing Summary

| | |
| --- | --- |
| Address | Building 3, No. 59, Huangpujiang Road, Changshu National New & Hi-Tech Industrial Development Zone, Jiangsu Province, The People's Republic of China |
| Establishment | July 11, 2017 |
| Mission | To promote the commercialization of R&D and technical results, develop human resources, and promote industry in the region through collaboration between multiple foreign companies, with a focus on Japanese companies, and universities and research institutes. |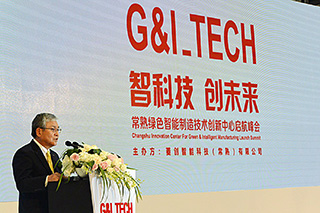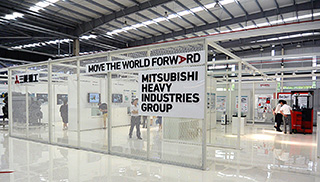 Changshu Innovation Center for Green & Intelligent Manufacturing
---