MHIEC Receives Order to Build Waste-to-Energy Plant in Shanghai with World's Largest Treatment Capacity of 6,000 Tons/Day
-- Construction Carried Out In Consortium with Chinese Engineering Firm --
・6,000 Tons/Day waste treatment capacity will set new world record

・Order received from Shanghai Laogang Solid Waste Utilization Co., Ltd.

・Plant to be delivered in July 2018 in the Eastern part of Shanghai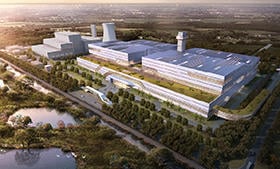 Yokohama, June 15, 2017 - Mitsubishi Heavy Industries Environmental & Chemical Engineering Co., Ltd. (MHIEC) has received an order to build a municipal solid waste incineration plant in Shanghai, China. Once completed, the waste to energy plant will have the largest waste treatment capacity in the world of 6,000 tons per day (tpd). MHIEC will provide the necessary equipment for waste heat recovery and flue-gas treatment, and is working in a consortium with Hangzhou New Century Energy Environmental Protection Engineering Co., Ltd. (HNC), a Chinese engineering firm. Delivery is slated for completion in July 2018.

The order was received from Shanghai Laogang Solid Waste Utilization Co., Ltd. The plant will consist of eight stoker furnace incinerators, each with a 750tpd capacity. It will be situated in an area adjacent to Pudong International Airport in the eastern part of Shanghai. MHIEC will be responsible for the design of various aspects of the plant, from incinerators to flue-gas treatment system. It will also supply stokers, hydraulic units, ash extractor and - for the first time for MHIEC in China - Catalyst for NOx (nitrogen oxide) removal system. HNC will provide the waste heat boilers and flue-gas treatment system.

HNC, established in 2000, is the environmental engineering arm of Hangzhou Boiler Group Co., Ltd., one of China's leading boiler manufacturers. MHIEC and HNC have built a strong track collaborating in waste to energy plant construction in China.

MHIEC has completed a number of other large-scale waste to energy plant projects. In 2000 the Company delivered a plant with a treatment capacity of 4,320 tpd to Singapore, with construction now underway on an additional facility. The company also built a 3,000 tpd plant in Beijing, China. MHIEC's proven reliability and technological strength were crucial factors in its selection to construct the Shanghai plant.

Demand for waste incinerator construction projects in China is expected to continue in the coming years. MHIEC will continue to work closely with its Chinese counterparts to ensure the latest facility meets the high standards of Shanghai; one of China's most advanced cities. With the successful implementation of this project the Company will continue to focus on future sales expansion.

(note)A stoker furnace is a common feature of municipal solid waste incineration plants. The waste is combusted as it moves along on a fire grate made of heat-resistant castings.
---
About MHI Group
Mitsubishi Heavy Industries (MHI) Group is one of the world's leading industrial groups, spanning energy, smart infrastructure, industrial machinery, aerospace and defense. MHI Group combines cutting-edge technology with deep experience to deliver innovative, integrated solutions that help to realize a carbon neutral world, improve the quality of life and ensure a safer world. For more information, please visit www.mhi.com or follow our insights and stories on spectra.mhi.com.