MHI Delivers the Second Next-Generation Cruise Ship "AIDAperla" to AIDA Cruises
-- Ship to set Sail for Majorca, Spain, beginning of May --
Tokyo, April 27, 2017 - Mitsubishi Heavy Industries, Ltd. today delivered AIDAperla, the second of two large cruise ships built for AIDA Cruises at MHI's Nagasaki Shipyard & Machinery Works.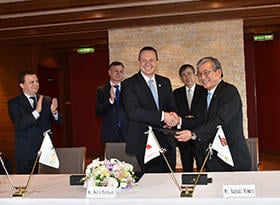 This follows the delivery on March 14, 2016 of AIDAprima, the sister ship of AIDAperla, marking completion of two cruise ships' construction ordered by AIDA Cruises. AIDAperla is scheduled to set sail for Majorca, Spain, beginning of May, 2017.

The delivery took place in attendance of Michael Thamm, CEO of the Costa Group, and Felix Eichhorn, President of AIDA Cruises, welcomed by MHI executives, Shunichi Miyanaga, President and CEO, and Kazuaki Kimura, President and CEO of Industry & Infrastructure business domain. Once the documents were signed the delivery concluded with the traditional change of the ship's national flag (from Japanese to Italian).

After a couple of introductory cruises from Majorca starting on June 1, AIDAperla will be christened by German model and presenter Lena Gercke on June 30, 2017, in Palma de Mallorca.

AIDAperla has 18 decks, is 300 meters in overall length, has gross tonnage of 125,000 tons, and is equipped with 12 restaurants and 18 bars including an on-board brewery. Among its numerous indoor public amenities there is the Theatrium, a 3-story multi-purpose theater in the center of the ship's atrium, as well as saunas, a discotheque, a casino and a fitness gym. The uppermost deck has swimming pools under large foil domes. There is also a sports deck that, during the winter period, can be converted into an ice skating rink. The ship has a total of 1,643 staterooms, offering the greatest variety in the AIDA Cruises fleet.

AIDAperla utilizes a number of advanced technologies. It is equipped with MHI's "Mitsubishi Air Lubrication System" (MALS) 1, a proprietary technology that enhances fuel efficiency and comfortable cruise at sea. It also uses a pod propulsion system 2, and a new air-conditioning system that saves on energy consumption by using waste heat.
Depending on the availability in the destinations AIDAperla can also be operated with eco friendly liquefied natural gas (LNG) while docked in ports. AIDAperla, the second next-generation cruise ship, provides a unique and comfortable holiday experience with state of the art environmental technology and enhanced safety systems.
Notes
1. Mitsubishi Air Lubrication System (MALS): An innovative system in which air blown out from the vessel, produces small air bubbles that cover the vessel's underside like an "air-carpet," reducing friction between the hull and seawater during navigation. MALS also enables a significant reduction in energy usage and carbon dioxide (CO2) emissions.
2. Pod propulsion system: A propulsion system whereby a ship's propellers are turned by cocoon-shaped attachments called "pods" that have built-in electric motors. The advantages of a pod propulsion system include reduced fuel consumption, outstanding steering performance (because the pods rotate), low noise and vibration (because there is no propeller shaft), and greater freedom in the system's placement within the ship.
Main Specifications of the AIDAperla

| | |
| --- | --- |
| Gross tonnage | Approx. 125,000 tons |
| Length overall | 300 meters |
| Width | 37.6 meters |
| No. of decks | 18 |
| No. of staterooms | 1,643 |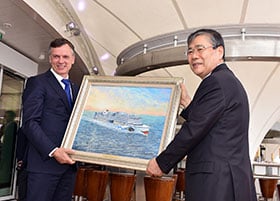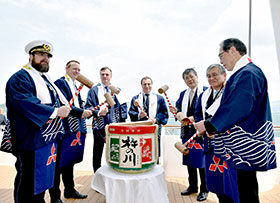 Delivery ceremony
---
About MHI Group
Mitsubishi Heavy Industries (MHI) Group is one of the world's leading industrial groups, spanning energy, smart infrastructure, industrial machinery, aerospace and defense. MHI Group combines cutting-edge technology with deep experience to deliver innovative, integrated solutions that help to realize a carbon neutral world, improve the quality of life and ensure a safer world. For more information, please visit www.mhi.com or follow our insights and stories on spectra.mhi.com.