Mitsubishi Heavy Industries Machine Tool Develops "MVR-Fx," High-Precision Double-Column Machining Center for Die Molds Application
-- Achieves High-Definition, High-Precision Surface Machining --
Tokyo, October 20, 2016 - Mitsubishi Heavy Industries Machine Tool Co., Ltd., a Group company of Mitsubishi Heavy Industries, Ltd. (MHI), has developed a new high-precision double column die mold machining center, dubbed the "MVR-Fx". It is the latest model in the company's MVR Series of double-column 5-face milling machines, one of its leading large-size machine tool product lines. The MVR-Fx's technological capabilities in high-precision machining and measurement system represent the culmination of a strong track record in ultra-high-precision machine tools, enabling die mold application with outstanding definition and precision. Mitsubishi Heavy Industries Machine Tool will showcase the capabilities of the new MVR-Fx at the 28th Japan International Machine Tool Fair (JIMTOF), starting from November 17, at Tokyo Big Sight (Tokyo International Exhibition Center). The theme of the company's exhibit at JIMTOF will be "Targets Set To Zero: Achieving Next-Generation Machining."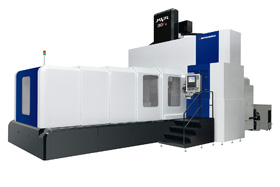 The MVR-Fx features a high-rigidity symmetrical structure and columns equipped with thermostabilizers that prevent minimize deformations caused by fluctuations in the ambient temperature. The main spindle adopts an internal cooling mechanism that performs direct cooling by passing the oil coolant inside the spindle . This feature suppresses temperature changes and unstable rotation during high-speed operation (20,000 revolutions per minute). In its feed drive mechanism, the MVR-Fx features a newly developed "Zero Gap Drive System" in which the servo motor is directly connected to both ends of the ball screws, achieving enhanced kinetic performance. Together, these various mechanisms achieve die mold machining of superlative precision and definition without having to adjust the servo motor for thermal displacement or coordinate compensation.

To further boost efficiency in die mold machining process, the MVR-Fx can be optionally equipped with "optical type automatic tool measurement system," a system with a performance track record proven in high-precision machining centers μV1. The MVR-Fx can also accommodate ATOS, the latest optical 3D measurement system for automatic measurement of machined workpieces. The exhibition at JIMTOF will highlight the MVR-Fx's machining precision capabilities, utilizing ATOS.

The MVR-Fx is a new type of machine tool based on a concept of "Factory Friendliness." It has a full enclosure to secure the safety of the worker, its layout has been designed with a focus on the proximity of the operator to the workpiece, it uses LED lighting to save energy, and the overall design reduces oil and air consumption.

For large die molds of the kind used in stamping car bodies and injection molding there is currently strong demand for machining with ever-higher precision and . This is achieved by improving the strength of the die mold materials, digitizing technologies and information, and enhancing design quality. With its market launch of the MVR-Fx, a machine tool to resolve those issues by targeting "Zero gaps, Zero shape imperfections, and Zero hand finishing," Mitsubishi Heavy Industries Machine Tool looks to realize higher efficiency by reducing the number of test pieces, thereby creating value for the customer.
Major Specifications of MVR-Fx (standard model, without optional features)
 
MVR30Fx
MVR35Fx
Table
Working area
Width (mm)
2,000
2,500
Length (mm)
3,000
4,000
Loading capacity (tons/m)
20
25
Distance between columns (mm)
2,550
3,050
Distance from spindle end to table surface (mm)
1,650
Axis travel (mm)
X
3,200
4,200
Y
3,000
3,500
Z
800
W
1,300
Spindle feed (m/min)
X
20
Y
20
Z
15
W
5
Cutting feed speed (m/min)
15
Main spindle
Ram size (mm)
420×420
Spindle speed (rpm)
20,000
Spindle motor output (kw)
22/18.5
(30-min rating/continuous)
Tool storage capacity (ATC)
40
---