MHI-PPM Receives Order for 2 Lines of the "DIAMONDSPIRIT-SA" Newspaper Offset Press Line from Malayala Manorama of India
-- Follows Previous Order of 5 Press Lines in 2013 --
Tokyo, October 17, 2016 - Mitsubishi Heavy Industries Printing & Packaging Machinery, Ltd. (MHI-PPM), a Group company of Mitsubishi Heavy Industries, Ltd. (MHI) based in Hiroshima, has received an order for two press lines of the "DIAMONDSPIRIT-SA", a newspaper offset printing press, from The Malayala Manorama Company Limited, one of India's leading newspaper publishers. In 2013 Malayala Manorama ordered five of the same press lines, including the very first unit produced. Placement of the latest order coincided with the launch of the fifth line this August. Deliveries of the newly ordered units will be completed between late 2017 and early 2018.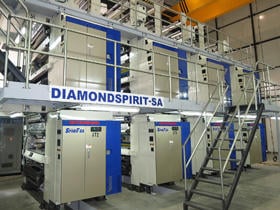 The DIAMONDSPIRIT-SA is a strategic product developed specifically for emerging countries in Asia. It incorporates numerous proven technologies from the DIAMONDSPIRIT, a high-speed offset press that was introduced in 2003. The DIAMONDSPIRIT has been widely adopted, particularly in the Japanese market, and is known for its superlative print quality and significant savings in operating costs. The DIAMONDSPIRIT-SA is more compact in size, thereby enabling reductions in plant costs and power consumption, offering higher returns on investment to meet the rapidly changing media needs of emerging economies.

Malayala Manorama is a newspaper publisher based in Kerala state, in southern India, with a long history tracing back to 1888. The company currently prints 2.4 million newspapers per day in the local Malayalam language, making it the third-largest local language newspaper in India. Malayala Manorama operates eleven printing plants, four of which now use the DIAMONDSPIRIT-SA press lines ordered in 2013. The most recent order was made in recognition of those presses' high productivity, coupled with the positive assessment the company gave to MHI-PPM's customer response team, both during the systems' installation and test operations, and after operations were underway.

In emerging countries, media industries such as newspaper publishing have been undergoing brisk changes fueled by economic growth, particularly in Asia. To keep pace with such changes higher returns on capital investments are being sought. Going forward, MHI-PPM will actively promote the DIAMONDSPIRIT-SA as a newspaper offset press perfectly matching the needs of these newly emerging markets.
---
About MHI Group
Mitsubishi Heavy Industries (MHI) Group is one of the world's leading industrial groups, spanning energy, smart infrastructure, industrial machinery, aerospace and defense. MHI Group combines cutting-edge technology with deep experience to deliver innovative, integrated solutions that help to realize a carbon neutral world, improve the quality of life and ensure a safer world. For more information, please visit www.mhi.com or follow our insights and stories on spectra.mhi.com.