MHI to launch two new Series of Room Air-Conditioners, Nine Models Specially Designed for the European Market
-- Italian design company helps create units for European taste --
Tokyo, September 20, 2016 - Mitsubishi Heavy Industries, Ltd. (MHI) has developed two new series of wall-mounted room air-conditioners for the European market, with production and marketing to commence in October. The new series, the top-of-the-line ZSX Series and the premium ZS Series, comprise of 9 models in total. In addition to their sophisticated air-conditioning functions and energy-saving performance, both series feature a unique design to blend in beautifully with any interior decor.
The design was created by the Italian industrial design studio Tensa srl, based in Milan, and responds to a broad spectrum of European design demands thanks to its rounded contours and stylish design features.  In addition to the nine regular models, two limited-edition color variations are in preparation. Further, computational fluid dynamics (CFD) normally used to design jet engine blades have been adopted to optimize the layout and air duct shape of both the fan and heat exchanger.

Both new series have been engineered to provide significantly improved comfort and energy savings. The adoption of CFD in the design of the fan blade shape has resulted in operating noise of only 19 decibels (dB)(A)Note 1 in "silent" mode. , The adoption of MHI's twin rotary compressor for the ZSX Series, combined with enhanced vector control enabling optimal control of the compressor motor, delivers greater efficiency throughout the range. As a result the ZSX models achieve outstanding energy efficiency receiving Europe's highest energy rating (EU Energy Label of A+++) in both cooling and heating mode. Furthermore, all models come standard-equipped with motion sensors that detect the level of ambient human movement and automatically control the room temperature as well as the air-conditioner's ON/OFF operations.

Furthermore, all models feature a "silent" operating mode for the outdoor unit and weekly timer function for greater environmental compatibility and convenience. Also, by connecting them to any commercially available Wi-Fi adapter, operation via smartphones, etc. is possible.

Going forward, MHI will apply its energy saving technologies cultivated in the heat pump field and Europe's cutting-edge product design, to provide products responding to local market needs, as a way of contributing to the realization of a low-carbon society.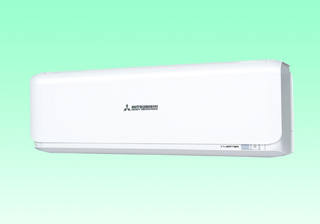 ZSX Series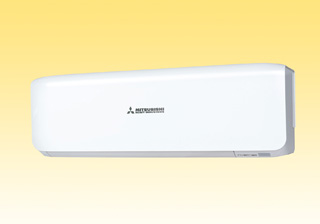 ZS Series
Main specifications of top-of-the-line ZSX Series
Indoor unit
SRK20ZSX-S
SRK25ZSX-S
SRK35ZSX-S
SRK50ZSX-S
SRK60ZSX-S
Outdoor unit
SRC20ZSX-S
SRC25ZSX-S
SRC35ZSX-S
SRC50ZSX-S
SRC60ZSX-S
Cooling
Power (kW)
2.0
2.5
3.5
5.0
6.1
SEERNote 2
8.50
6.70
6.00
Energy rating
A+++
A+++
A+++
A++
A+
Heating
Power (kW)
2.7
3.2
4.3
6.0
6.8
Max. power (kW)
5
5.4
6.3
7.7
8.2
SCOPNote 3
5.10
4.60
4.36
Energy rating
A+++
A+++
A+++
A++
A+
Dimensions
Indoor unit
Height
305mm
Width
920mm
Depth
220mm
Outdoor unit
Height
640mm
Width
800mm
Depth
290mm
Main specifications of standard ZS Series
Indoor unit
SRK20ZS-S
SRK25ZS-S
SRK35ZS-S
SRK50ZS-S
Outdoor unit
SRC20ZS-S
SRC25ZS-S
SRC35ZS-S
SRC50ZS-S
Cooling
Power (kW)
2.0
2.5
3.5
5.0
SEER
7.8
7.8
7.8
6.3
Energy rating
A++
A++
A++
A++
Heating
Power (kW)
2.7
3.2
4.0
5.8
Max. power (kW)
4.2
4.4
4.8
6.6
SCOP
4.6
4.6
4.6
4.2
Energy rating
A++
A++
A++
A+
Dimensions
Indoor unit
Height
290mm
Width
870mm
Depth
230mm
Outdoor unit
Height
540mm
595mm
Width
780mm
780mm
Depth
290mm
290mm
Notes:
1 A refers to "A-weighting." A-weighted decibels are measurements that compensate for human perception of sounds.
2 SEER: seasonal energy efficiency ratio
3 SCOP: seasonal coefficient of performance
---
About MHI Group
Mitsubishi Heavy Industries (MHI) Group is one of the world's leading industrial groups, spanning energy, smart infrastructure, industrial machinery, aerospace and defense. MHI Group combines cutting-edge technology with deep experience to deliver innovative, integrated solutions that help to realize a carbon neutral world, improve the quality of life and ensure a safer world. For more information, please visit www.mhi.com or follow our insights and stories on spectra.mhi.com.