MHI Plans Expansion of North American Oil & Gas Business through Strengthened Customer Offerings
-- Streamlining LNG Plants with New Technologies; Upgraded U.S. Compressor Plant Facilities --
Mitsubishi Heavy Industries, Ltd.
Mitsubishi Heavy Industries Compressor Corporation
Mitsubishi Hitachi Power Systems, Ltd.
Tokyo, September 12, 2016 - Mitsubishi Heavy Industries, Ltd. (MHI) is bringing its Groupwide resources together to offer strengthened solutions to attract more customers for advanced oil & gas related plants in the North American market.
Combining its offerings of the latest gas turbines and state-of-the-art compressors, the Company will deliver a broad range of new technologies that simplify LNG (liquefied natural gas) plant facilities, reduce costs and increase environmental performance. Mitsubishi Heavy Industries Compressor International Corporation (MCO-I), the Houston-based U.S. subsidiary of Mitsubishi Heavy Industries Compressor Corporation (MCO), will strengthen its compressor and steam turbine after-sale services - including retrofitting, repair and parts manufacture – by improving and expanding its repair and machining facilities at its Pearland Works plant in Texas.

Planned LNG plant enhancement offerings include medium-scale, high-efficiency H-100 gas turbines manufactured by Mitsubishi Hitachi Power Systems, Ltd. (MHPS), which will drive MCO-manufactured compressors. Adoption of this configuration enables space savings, a broader and variable operating range, and start-up at full pressure.

To deliver this offering, MCO-I has installed the latest parts machining equipment (large-scale lathes, machining centers, 5-face machining centers, etc.), diverse testing equipment (rotor balancing machines, etc.) and rotor repair equipment at Pearland Works. To ensure outstanding quality control and production consistency, the Company chose equipment compatible with the operation programs and training materials in use at MCO's existing facilities.

Pearland Works began operations in April 2015. In the first phase, an approximately 183,000 square foot (ft2) factory and office building were constructed on a plot of land roughly 26 acres in area. Initial operations consisted of local production primarily of compressor packaging and after-sale servicing of equipment delivered by MCO. Then in June 2015 the plant shipped its first locally packaged compressor, initiating the steps needed for a local production system.

"With this new enhancement of the factory's repair and machining functions, MCO-I aims to attract orders from new petrochemical plants for compressors and turbines," said Masanori Kobayashi, President, MCO-I. "We will also seek to increase our parts manufacture and repair business to upgrade or replace MCO legacy equipment, and will develop a system to improve response time to requests for upgrades, parts replacement or repairs for equipment originally provided by other companies."

As part of this comprehensive Texas initiative, both MCO and MCO-I will showcase their capabilities at the 45th Turbomachinery & Pumps Symposia, in Houston, September 12-15. Together with MHI and MHPS, the four group companies will jointly demonstrate their ability to leverage MHI's full range of technologies and capabilities to better serve oil & gas customer needs.

By expanding business in North America finely attuned to local customers' needs, MHI and its Group companies will seek to make deep inroads into that huge market and also strengthen their competitiveness within global markets, including those of Latin America, Europe and Africa.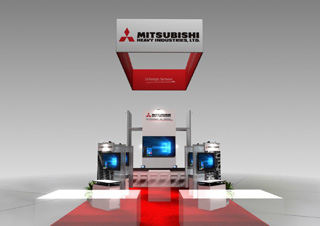 MHI's exhibition booth (image rendering)
---
About MHI Group
Mitsubishi Heavy Industries (MHI) Group is one of the world's leading industrial groups, spanning energy, smart infrastructure, industrial machinery, aerospace and defense. MHI Group combines cutting-edge technology with deep experience to deliver innovative, integrated solutions that help to realize a carbon neutral world, improve the quality of life and ensure a safer world. For more information, please visit www.mhi.com or follow our insights and stories on spectra.mhi.com.