MHI-PPM Receives Order for "DIAMONDSPIRIT" Newspaper Offset Press from Minami-Nippon Shimbun Co., Ltd.
Tokyo, August 29, 2016 - Mitsubishi Heavy Industries Printing & Packaging Machinery, Ltd. (MHI-PPM), a Group company of Mitsubishi Heavy Industries, Ltd. (MHI) based in Hiroshima, has received an order for a Mitsubishi 4 x 1 "DIAMONDSPIRIT" newspaper offset press from Minami-Nippon Shimbun Co., Ltd., a newspaper company with head office in Kagoshima in Kyushu. The new press is to be installed at its new plant, with delivery scheduled for April 2018.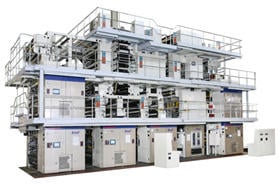 Minami-Nippon Shimbun dates back to 1881, when Kagoshima Shimbun was founded. The company adopted its current corporate name, as well as the eponymous newspaper name, in 1946. Minami-Nippon Shimbun has become widely popular among local residents, with daily circulation currently near 310,000. The company also undertakes printing operations for several national newspapers.

Earlier, MHI completed delivery of a "LITHOPIA BTO-N" newspaper offset press to Minami Nippon Shimbun Offset Rinten Co., Ltd. in 1988 and a "LITHOPIA BTO-N4" newspaper offset press to Minami Nippon Shimbun Kaihatsu Center Co., Ltd. in 1999. Minami-Nippon Shimbun gave the DIAMONDSPIRIT press high marks for its solid record of more than 30 installations with proven operations, as well as for its short changeover time and the stability of its printing quality to accommodate printing of various newspapers.

The new press will be operated by the Mitsubishi press control system. The system's automated features include ink presetting with CTP (computer-to-plate) interface, various press presets, automatic color register, and the "DIAMOND EYE Jr.+" color quality defect detection system. In these ways, the DIAMONDSPIRIT represents the very latest achievement in newspaper offset presses bringing together MHI-PPM's comprehensive technological capabilities.

With this latest order, MHI-PPM will now further focus on solution-providing marketing and customer base expansion in both the domestic and global markets by responding to ever more diversified newspaper production needs.
---
About MHI Group
Mitsubishi Heavy Industries (MHI) Group is one of the world's leading industrial groups, spanning energy, smart infrastructure, industrial machinery, aerospace and defense. MHI Group combines cutting-edge technology with deep experience to deliver innovative, integrated solutions that help to realize a carbon neutral world, improve the quality of life and ensure a safer world. For more information, please visit www.mhi.com or follow our insights and stories on spectra.mhi.com.