Mitsubishi Minatomirai Industrial Museum to Host " Summer Science Festival "
-- Look, Listen and Touch to Experience Firsthand! Two Days of Science-related Play --
Tokyo, July 14, 2016 - From August 6 (Sat) to August 7 (Sun) the Mitsubishi Minatomirai Industrial Museum will host a "Summer Science Festival." Through a variety of innovative programs, the festival - a big event timed to coincide with the school summer holiday - aims to have not only children but also adults to experience how fun science and technology can be and the enjoyment and pleasure they can derive from making things.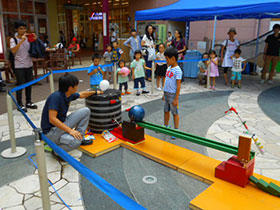 "Rolling contraptions" will be exhibited with cooperation from KoroKoro Lab *1 over the two days in the 2nd floor special exhibition corner. Rolling contraptions are made from everyday items where a small ball knocks over large dominoes or mechanisms. They demonstrate the inevitable and automatic nature of movement, and provide an easy-to-understand introduction and entertaining performance about chains of movement that occur one after another through combinations (see the museum website for more information on each event).

A "Science Lecture" will be held in the 2nd floor No. 2 video room.
On the 6th, Yujin Nakagawa, special technology assistant manager of the Japan Agency for Marine-Earth Science and Technology (JAMSTEC) climate change adaptation technology development project team will present "Walk with the climate in a three-legged race!", covering efforts to tackle extreme climate change, such as heavy rain and heavy snow, which are problems in Japan, in addition to warming, and state-of-the-art topics such as the current national project "Social Implementation Program on Climate Change Adaptation Technology" (SI-CAT) (cooperation: JAMSTEC).

On the 7th, Professor Ken Ebisawa, of Tokyo University Graduate School and the JAXA Institute of Space and Astronomical Science, who specializes in black hole research using X-ray astronomical satellites, will present "Look into a black hole", covering how the institute observes black holes that do not allow light to escape, including methods discovered this year. (cooperation: JAXA).

"Experiment! Power generation mechanism science show" will be held on the 1st floor, next to the Pittari Home. The show will feature a mechanism whereby the movement of air or water turns blades to rotate a motor and produce electricity, and ways to produce a large amount of power more efficiently will be introduced in an easy-to-understand way using demonstrations. In addition, next to this show there will be a corner where visitors can make a one-of-a-kind tin badge as a memento of the science festival (participation fee 200 yen).

Two workshops will be held in the 2nd floor No. 1 video room (participation fee for each 500 yen, first-come-first-served basis on the day). Build a fun windmill that spins in the wind in the "Let's Make a windmill!" workshop. Or make a small handmade globe by pasting maps onto a sphere in the "Let's Make a handmade globe!" workshop.

Techno-kun, the museum's character, will also make appearances during the period of the science festival.

The Mitsubishi Minatomirai Industrial Museum was opened in Yokohama in June 1994 to promote exchanges with the local community and to foster interest in science and technology. The museum uses actual machinery and equipment, scale models, video presentations and explanatory panels to present easy-to-understand introductions to MHI's state-of-the-art technologies and products, and is divided into six zones. The museum celebrated the milestone of 2.5 million visitors on March 14 this year. Additionally, the Aerospace Zone was reopened after renewal on February 28, and demonstration exhibits such as of a full-size mock-up of the nation's first commercial jet MRJ's nose, forward fuselage, part of its main wing and engine, as well as hands-on displays of aerospace and rocket technology are introduced. The museum's concept of enabling visitors to see and touch real science and technology firsthand is widely supported by visitors from infants to adults to the elderly, and the museum plans to improve the exhibits further and implement new plans.
*1 KoroKoro Lab is a Saitama-based sheet metal craftsmen group who carry out everything from planning to production of contraptions that use everyday things with ingenuity to move mechanisms continuously only by the principles of movement. Founded in the wake of victory in the popular TV Tokyo program "TV Champion", they carry out sympathy call activities at the Saitama Children's Medical Center, make online commercials, and have appeared in NHK and commercial TV station dramas, variety shows, and a number of popular programs. In recent years, through participating in hands-on experience workshops in various regions for families and children, they have deepened interest and understanding of manufacturing, and they enjoy seeing the smiles of children that result from their great sense of accomplishment.
Outline of Mitsubishi Minatomirai Industrial Museum
Location:
Mitsubishijuko Yokohama Building,
3-1, Minatomirai 3-chome, Nishi-ku,
Yokohama 220-8401
Telephone:
+81-45-200-7351
Fax:
+81-45-200-9902
Website:
http://www.mhi.co.jp/en/museum/
Mobile site:
http://museum.mobile.mhi.co.jp
Access:
3-minute walk from Minatomirai Station on the Minatomirai Subway Line;
8-minute walk from Sakuragicho Station on the JR Negishi Line or Yokohama Subway Line
Open hours:
10:00 a.m. to 5:00 p.m. (admission until 4:30 p.m.)
Closed days:
Tuesdays (Wednesday, when Tuesday is a national holiday)
Admission fee:
500 yen for adults
300 yen for junior and senior high school students
200 yen for elementary school students
100 yen discount per person for groups of 20 or more people
Admission is free for elementary school, junior and senior high school and university field trip visits, provided a reservation is made at least three days in advance of the visit.
---
About MHI Group
Mitsubishi Heavy Industries (MHI) Group is one of the world's leading industrial groups, spanning energy, smart infrastructure, industrial machinery, aerospace and defense. MHI Group combines cutting-edge technology with deep experience to deliver innovative, integrated solutions that help to realize a carbon neutral world, improve the quality of life and ensure a safer world. For more information, please visit www.mhi.com or follow our insights and stories on spectra.mhi.com.