Mitsubishi Heavy Industries Machine Tool Completes Delivery of 1st ABLASER Laser Micromachining System to Leading Domestic Manufacturer of Precision Instruments
-- Company Will Now Focus on Sales Expansion in Europe, North America and Asia Markets --
Tokyo, July 7, 2016 - Mitsubishi Heavy Industries Machine Tool Co., Ltd., a Group company of Mitsubishi Heavy Industries, Ltd. (MHI), has completed delivery of its very first "ABLASER" laser micromachining system. The "ABLASER," the first product developed by the company in its laser machining system business, was delivered to a leading Japanese manufacturer of precision instruments. With this achievement, Mitsubishi Heavy Industries Machine Tool now aims to expand sales of the ABLASER by bringing its high-speed, high-precision machining performance, enabled by innovations such as the adoption of a proprietary optical head, to the broad attention of the North American and European markets, the leading forces in laser machining technology today; and by proposing laser micromachining solutions which employ the ABLASER in the semiconductor manufacturing process to the markets of Asia.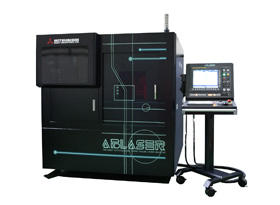 The precision instrument manufacturer that took delivery of the first ABLASER will use the system primarily for precision machining of very hard or brittle materials. The new system will enable micro-precision machining of difficult-to-cut brittle materials, and by eliminating the conventional need for pre- and post-processing when etching, the ABLASER will also reduce running costs. In these ways, the system is expected to contribute to the development of new products.

The ABLASER adopts an ultra-short pulse laser that enables machined surfaces of micro precision and high quality. In combination with a unique optical head featuring a high-precision lens, prism and other components, knowhow for precision machine tools is used to refract and rotate the laser beam at will. With these features the ABLASER has successfully increased shape precision, which until now had been a key target for winning widespread system adoption. By ablating the machining area with high peak power, thermal impact on the area can be suppressed; and in drilling applications, dimensional accuracy and surface smoothness are achieved above the levels possible with electric discharge machining or conventional laser machining. These features enable difficult machining tasks such as conically tapered holes and holes tapering toward the center.

Following the introduction of the ABLASER on an actual production floor, demonstrating the outstanding quality and stability of its machining, Mitsubishi Heavy Industries Machine Tool will proceed with marketing in the home market and will also strengthen its proposal-based marketing initiatives targeting various machining worksites especially in the European and North American markets. The company will introduce its micromachining solutions applying the ABLASER's technology to businesses and research institutes in those markets, particularly targeting industries where products are projected to become increasingly miniaturized in the coming years: for example, automobiles, MEMS*, semiconductors and medical equipment. In these ways the company looks to respond to new demand for micro-precision type machining.

Going forward, Mitsubishi Heavy Industries Machine Tool will also propose a new semiconductor manufacturing process that combines the ABLASER with other of the company's proprietary products: for example, its fully automated room-temperature wafer bonding machine enabling efficient lamination of large-diameter silicon wafers; and the "µV1," a micro milling machine capable of easy processing even of silicon carbide and other wafer materials that are normally difficult to cut. The company intends to strengthen its marketing of this system especially to semiconductor production bases in Asian countries.

Together with sales expansion of the ABLASER, Mitsubishi Heavy Industries Machine Tool will also focus efforts into developing products to respond to an array of today's most advanced needs in laser machining.

* MEMS (micro-electro-mechanical systems) are micro-size devices, such as sensors and actuators, produced by micro-processing technology. These devices are used in automobiles, cellular telephones, digital cameras, ink-jet printer heads, etc.
Examples of laser micromachining

| | | |
| --- | --- | --- |
| Straight hole | Reverse-tapered hole | Drum-shaped hole |
| | | |
|   | Thickness:0.8mm | Minimum hole daiameter:Φ0.1mm |
Products Page
---
About MHI Group
Mitsubishi Heavy Industries (MHI) Group is one of the world's leading industrial groups, spanning energy, smart infrastructure, industrial machinery, aerospace and defense. MHI Group combines cutting-edge technology with deep experience to deliver innovative, integrated solutions that help to realize a carbon neutral world, improve the quality of life and ensure a safer world. For more information, please visit www.mhi.com or follow our insights and stories on spectra.mhi.com.