Turbocharger and Engine Operations Base in North America to Undergo Name Change to Mitsubishi Turbocharger and Engine America, Inc.
Tokyo, June 29, 2016 - Effective July 1, Mitsubishi Heavy Industries, Ltd. (MHI) will change the corporate name of its turbocharger and engine operations base in North America from Mitsubishi Engine North America, Inc. (MENA) to Mitsubishi Turbocharger and Engine America, Inc. The name change is being made in order to reflect the company's current business portfolio now that its business scale in turbochargers, locally produced by MENA since last year, has expanded rapidly. Going forward, the renamed base will accelerate business expansion not only in the North American market, where demand is robust, but also in Latin America and other emerging markets.
Mitsubishi Turbocharger and Engine America, Inc. is a wholly owned MHI company. The company handles marketing of industrial engines, manufacture and marketing of turbochargers, and after-sale servicing and parts supply for both product lines. Its headquarters are located in Itasca, Illinois.

MENA was founded in 1985 as a sales and service base of MHI industrial engines in North America. For three decades, the company has steadily contributed to the MHI Group's sales expansion.

In 2015 MENA opened a factory dedicated to the production of turbochargers, one of MHI's core mass-produced products. Under a shared factory arrangement, MENA's new production line was established within the existing premises of a car air-conditioner compressor factory in Franklin, Indiana operated by Mitsubishi Heavy Industries Climate Control, Inc. (MCCA), MHI's North American arm handling business in air-conditioners and refrigeration systems. Production was transferred here on full scale from fiscal 2016 in light of growing demand in the North American market, where most automobiles run on gasoline, for turbocharged engines, which contribute to enhanced fuel efficiency at a time when related regulations are becoming increasingly stringent. Local production will boost quality and cost competitiveness, enable shorter delivery schedules, and drive further expansion in sales.

In the area of industrial engines also, Mitsubishi Turbocharger and Engine America will continue to supply products that respond to tightened exhaust gas emissions standards with cutting-edge technologies. The company will also respond to demand for emergency, distributed and other power generation systems, and will strive for share expansion in the domestic cargo ship engine market.

Today MHI is working to expand its global market share in both turbochargers and engines by building up the world's most optimized production and procurement structures. Going forward, the newly renamed Mitsubishi Turbocharger and Engine America will play a major role in these optimized global systems and drive further business expansion.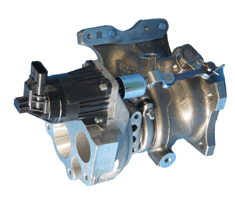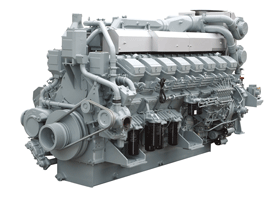 Automotive turbocharger              Diesel engine  
---
About MHI Group
Mitsubishi Heavy Industries (MHI) Group is one of the world's leading industrial groups, spanning energy, smart infrastructure, industrial machinery, aerospace and defense. MHI Group combines cutting-edge technology with deep experience to deliver innovative, integrated solutions that help to realize a carbon neutral world, improve the quality of life and ensure a safer world. For more information, please visit www.mhi.com or follow our insights and stories on spectra.mhi.com.