Series of Forums to Share Tokyo's Municipal Solid Waste Knowhow held in Myanmar
734 Participants Participated in Total
Tokyo, June 10, 2016 - Mitsubishi Heavy Industries, Ltd. (MHI) and Mitsubishi Heavy Industries Environmental & Chemical Engineering Co., Ltd. (MHIEC), a Group company, co-hosted a forum on municipal solid waste management in Yangon, Myanmar, a country undergoing robust economic development. The forum was the fourth and final of a series sharing Tokyo's expertise in municipal solid waste management, an issue of growing social concern in Myanmar.
The forum, held jointly between MHI Group and Myanmar Engineering Society as part of CSR activities, conveyed Tokyo's past experience in waste treatment including history, technology, and laws and regulations, and was aimed at persons involved in the cleaning business in Myanmar. All four events in the series, which started in September last year, have been well received, and 734 participants attended in total.

At the fourth and final forum, with the theme of "waste collection, transport, treatment and government responsibility", was held at the Chatrium Hotel Royal Lake Yangon. The keynote speaker was Dr. Ichiro Sakata, Director of the Policy Alternatives Research Institute of The University of Tokyo, and a speaker was invited from the International Cooperation Office for Waste Management, Clean Authority of Tokyo under the support of the Japan International Cooperation Center (JICE).

The event was a great success, with attendance of 230 participants by Maung Maung Soe, Yangon City Mayor, Aung Myint President, Myanmar Engineering Society and members of the Yangon City Development Committee who support the local government. Members of Yangon's Pollution Control and Cleansing Department, Myanmar Engineering Society members, representatives from local universities and business corporations as well as the Embassy of Japan in Myanmar also attended.

Shigehisa Kobayashi, Chief Regional Officer, Asia Pacific of MHI, who attended the forum, commented as follows.
"We have held this series of seminars together with the Myanmar Engineering Society in the hope that we can assist with waste management and creating a clean environment in Yangon and other cities in the near future. I hope that MHI Group can continue to collaborate with the people of Myanmar to contribute to sustainable development in Myanmar."

According to the results of the questionnaire of participants after the event, many people had a high level of interest in municipal waste incinerators. Additionally, many participants were aware of the issue of education of city residents on waste treatment and the desire to make Myanmar a clean country with a good environment could be felt.

MHI and MHIEC intend to continue solving various social issues on a global scale through their business activities, aiming to share future value with stakeholders of every kind. Based on MHI CSR guidelines, the companies will continue to focus on activities with a strong awareness of protecting the environment, building trust with society and contributing to the education of those responsible for the next generation.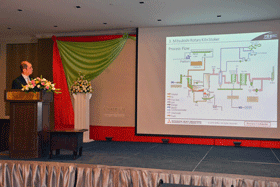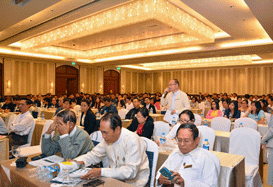 ---
About MHI Group
Mitsubishi Heavy Industries (MHI) Group is one of the world's leading industrial groups, spanning energy, smart infrastructure, industrial machinery, aerospace and defense. MHI Group combines cutting-edge technology with deep experience to deliver innovative, integrated solutions that help to realize a carbon neutral world, improve the quality of life and ensure a safer world. For more information, please visit www.mhi.com or follow our insights and stories on spectra.mhi.com.