Tokyo, April 13, 2016 - The newly developed waste heat recovery system "HydrocurrentTM Organic Rankine Cycle (ORC) Module 125EJW" 1 by MHI Marine Machinery & Engine Co., Ltd. (President: Kazuo Soma, Head Office: Nagasaki) has begun operation on the vessel named Arnold Maersk belonging to Maersk Line.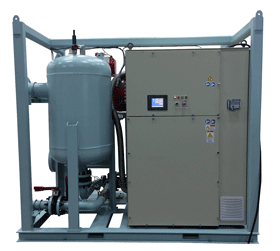 The ORC system enables the utilization of extremely low temperature heat sources to generate electrical power at low-cost and high-efficiency in marine applications. In concrete terms, the system generates electricity using the waste heat of the main engine jacket cooling water (approx. 85°C), and by reducing the load on the vessel's main generator, cuts CO2 emissions and improves the efficiency of the vessel's plant.

The ORC has an output of 125 kW and is fitted to the Arnold Maersk. Prior to this, a pilot ORC machine completed performance testing at the factory of Calnetix Technologies who is a partner of MHI Marine Machinery & Engine, gaining the approval of ClassNK and Lloyd's Register of Shipping in 2015.

Maersk Line is a shipping company based in Denmark's capital Copenhagen under the umbrella of the world's largest shipping conglomerate A.P. Moller - Maersk A/S. The Group has offices around the world, and in addition to shipping, operates in areas such as oil, gas and mining.

MHI Marine Machinery & Engine has won a high level of trust in the world market with its wide range of marine machinery and engines unparalleled in the world, such as low-speed two-stroke engines, turbochargers, propellers, marine boilers and turbines, deck cranes, deck machinery, stabilizers, and steering gear, in addition to the ORC.

MHI Marine Machinery & Engine will continue to offer diverse and creative energy efficiency and environmental solutions to improve the efficiency of shipping, contributing to the reduction of resource use and environmental impact.

Notes:

1. "Hydrocurrent" is a trademark of Calnetix Technologies.
---
About MHI Group
Mitsubishi Heavy Industries (MHI) Group is one of the world's leading industrial groups, spanning energy, smart infrastructure, industrial machinery, aerospace and defense. MHI Group combines cutting-edge technology with deep experience to deliver innovative, integrated solutions that help to realize a carbon neutral world, improve the quality of life and ensure a safer world. For more information, please visit www.mhi.com or follow our insights and stories on spectra.mhi.com.