Tokyo, March 14, 2016 - On March 13 the Mitsubishi Minatomirai Industrial Museum ("the Museum"), opened by Mitsubishi Heavy Industries, Ltd. (MHI) in Yokohama in June 1994 to publicize the Company's products and technologies, foster exchanges with the local community, and promote interest in science and technology, welcomed its 2.5 millionth visitor to date. The Museum's 2.5 millionth visitor was Aoi Ono, a resident of Yokohama City, Kanagawa Prefecture, who was visiting with his family. He received a special gift and flowers from Museum Director Toshiki Noso.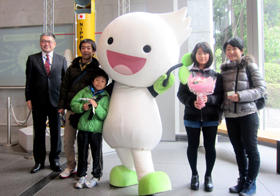 As the lucky 2.5 millionth visitor, Aoi Ono was presented with a 1:200 scale model of the MRJ (Mitsubishi Regional Jet), Japan's first passenger jet, made by Mitsubishi Aircraft Corporation. The MRJ is currently undergoing flight testing. All subsequent visitors on the day were given original stickers, making for a very festive occasion.

The Mitsubishi Minatomirai Industrial Museum uses actual machinery and equipment, scale models and explanatory panels to present easy-to-understand introductions to MHI's state-of-the-art scientific technologies and products. Exhibits are divided into six zones. In 2014, a commemorative ceremony and various special events were held to mark the Museum's 20th anniversary. This year, on February 28 the newly refurbished "Aerospace Zone" was opened.

Here, visitors can view a full-size mockup of the MRJ's nose, forward fuselage, part of its main wing, and engine. They can also become familiar, through hands-on displays, with MHI's various aircraft and launch vehicle technologies. The opportunity to experience scientific technologies by seeing and touching real objects has been enthusiastically received, and as a result visitors to the Museum today span all age groups, from toddlers to elders.

After marking its 2.5 millionth visitor, the Museum will continue to periodically enhance its displays further and launch new programs on an ongoing basis.
Outline of Mitsubishi Minatomirai Industrial Museum
Location:  Mitsubishijuko Yokohama Building, 3-1, Minatomirai 3-chome, Nishi-ku,
Yokohama 220-8401
Telephone: +81-45-200-7351
Fax: +81-45-200-9902
Website:     http://www.mhi.co.jp/en/museum/
Access:   3-minute walk from Minatomirai Station on the Minatomirai Subway Line;
8-minute walk from Sakuragicho Station on the JR Negishi Line or Yokohama Subway Line
Open hours:  10:00 a.m. to 5:00 p.m. (admission until 4:30 p.m.)
Closed days:  Tuesdays (Wednesday, when Tuesday is a national holiday)
Admission fee:
500 yen for adults
300 yen for junior and senior high school students
200 yen for elementary school students
100 yen discount per person for groups of 20 or more people
Admission is free for elementary school, junior and senior high school, and university field trip visits, provided a reservation is made at least three days in advance of the visit.
---
About MHI Group
Mitsubishi Heavy Industries (MHI) Group is one of the world's leading industrial groups, spanning energy, smart infrastructure, industrial machinery, aerospace and defense. MHI Group combines cutting-edge technology with deep experience to deliver innovative, integrated solutions that help to realize a carbon neutral world, improve the quality of life and ensure a safer world. For more information, please visit www.mhi.com or follow our insights and stories on spectra.mhi.com.