MHI Receives Order for APM Cars and APM System Capacity Expansion at Singapore Changi Airport
Tokyo, March 3, 2016 - Mitsubishi Heavy Industries, Ltd. (MHI), jointly with Mitsubishi Corporation (MC), has received an order for capacity expansion work and the provision of new cars for the Automated People Mover (APM) system at Singapore Changi Airport. This is the outcome of a competitive tender held by Changi Airport Group. The expansion work is scheduled for completion in 2019.
The order for capacity expansion includes new APM cars, as well as upgrades and additions to signaling and communication systems and related station facilities. MHI will be responsible for the design, manufacture and delivery of the new cars, as well as the design, equipment supply, installation, and commissioning of the integration of the overall APM system to expand the capacity.

The "Skytrain" APM system at Singapore Changi Airport connects three terminals over a distance of 6.4 kilometers. MHI and MC were originally commissioned to build the APM system at the airport in 2002, and have operated and performed maintenance since operations started in 2007. The MHI/MC team has been providing prompt after-sales service to the airport for the past 8 years.

Singapore Changi Airport is a leading airport in Asia, registering more than 55 million passenger movements in 2015. With passenger numbers expected to increase further with the opening of Jewel Changi Airport - a lifestyle destination located in front of Terminal 1 - in 2018, capacity expansion of the APM system is necessary.

The APM system is a driverless, fully automated passenger transport system that uses cars equipped with rubber tires delivering a smooth and quiet ride. MHI has also delivered APM systems to airports in the United States, Hong Kong, Korea and Dubai. In Singapore, MHI delivered an Automated Guideway Transit (AGT) system to Sengkang Punggol Light Rail Transit (LRT), and has supplied 41 cars for the system since its inception in 1998. The company also has a track record in numerous urban AGT systems in Japan and Macau, and is a global leader in the APM/AGT markets.

A number of projects aimed at improving transportation capability, either through capacity expansion or conversion of existing transportation systems, are being planned in Asia and around the world. MHI will further strengthen its proactive marketing activities in this arena, targeting not only construction of new APM/AGT systems, but also the conversion and capacity expansion of existing systems.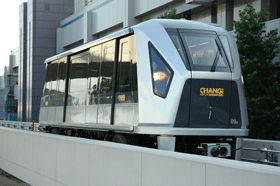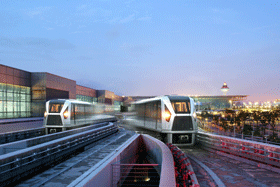 APM system at Singapore Changi Airport
---