Mitsubishi Minatomirai Industrial Museum to Open Newly Refurbished "Aerospace Zone"
-- New Features to Include Full-size Mockup of Engine, Other Components of MRJ, Japan's First Passenger Jet --
Tokyo, February 26, 2016 - On February 28 (Sun) the Mitsubishi Minatomirai Industrial Museum in Yokohama will launch a newly renovated Aerospace Zone dedicated to introducing advanced technologies in the field of aerospace. The new exhibits will be a full-size reproduction of the nose, forward fuselage, engine and main wing components of the MRJ (Mitsubishi Regional Jet), Japan's first passenger jet that successfully completed its maiden flight last November. The refurbished zone will introduce technologies inspired by man's skyward dreams such as developing airplanes and launch vehicles through the exhibits of products' mechanism and aerospace industry's history.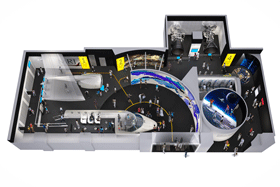 The theme of the new Zone is "Aiming for heights beyond the skies we used to dream of." The main showpiece is a full-size mockup of the MRJ's nose and forward fuselage introducing both its external appearance and interior. Inside its cabin, the real seats lines up and visitors can try out for themselves. Meanwhile inside the cockpit, visitors can experience simulated flight while operating controls just like the real ones. They also will have the opportunity to closely examine the main wing of MRJ with a full-scale engine, which manufactured by Pratt & Whitney of the U.S and achieved the improvement in fuel efficiency and noise reduction.

Another new feature is a large, wide screen known as "Imagination Theater." Here, through the imagination of a young boy who wants more than anything to be able to fly, visitors are introduced to the history of aviation and to the dreams and technologies of the subsequent aerospace age – a warm-up to induce visitors to the displays they are about to see here. In the "Aircraft Challenge" area, using touch-panel control visitors can experience what it is like to design, maintain, assemble and disassemble an aircraft fuselage as well as put tool in order.

The cylindrical screen, called "Frontier Theater," introduces the future of aerospace development by dynamic video presentation. In the "Rocket Engine" area visitors can view the LE-7A and its predecessor, the LE-7, engines which were actually installed in the H-IIA and H-IIB launch vehicles, thereby acquiring an understanding of the evolution of engine technology. The exhibition of rocket models has been newly expanded to include the H3, which is currently under development; it gives visitors a good understanding of the progress Japan has made in developing launch vehicles through the years.

The Aerospace Zone also contains a full-size display of "Kibo," Japan's experimental module for the International Space Station (ISS). Here, the technologies that protect the module from space debris are introduced. Inside the module, visitors can have fun controlling a robot arm just like a mission specialist does.

The Mitsubishi Minatomirai Industrial Museum was opened in Yokohama in June 1994 to promote exchanges with the local community and to foster interest in science and technology. The museum uses actual machinery and equipment, scale models, video presentations and explanatory panels to present easy-to-understand introductions to MHI's state-of-the-art technologies and products. Exhibits are divided into six zones. In 2014 the museum celebrated its 20th anniversary with a commemorative ceremony and related events. In March 2015 the Ocean Zone was reopened centered on a full-size re-creation of the Shinkai 6500, a manned submersible research vessel displayed like a cutaway. The museum attracts visitors of all ages, from toddlers to seniors, all of whom enjoy having the opportunity to learn about the latest developments in science and technology by seeing, touching and experiencing the real items for themselves. Going forward the museum will continue to enhance its displays further and launch new programs on an ongoing basis.
Outline of Mitsubishi Minatomirai Industrial Museum
Location:
Mitsubishijuko Yokohama Building, 3-1, Minatomirai 3-chome, Nishi-ku, Yokohama 220-8401
Telephone:+81-45-200-7351
Fax:+81-45-200-9902
Website: http://www.mhi.co.jp/en/museum/
Access: 3-minute walk from Minatomirai Station on the Minatomirai Subway Line;
8-minute walk from Sakuragicho Station on the JR Negishi Line or Yokohama Subway Line
Open hours: 10:00 a.m. to 5:00 p.m. (admission until 4:30 p.m.)
Closed days: Tuesdays (Wednesday, when Tuesday is a national holiday)
Admission fee:
500 yen for adults
300 yen for junior and senior high school students
200 yen for elementary school students
100 yen discount per person for groups of 20 or more people
Admission is free for elementary school, junior and senior high school, and university field trip visits, provided a reservation is made at least three days in advance of the visit.
---
About MHI Group
Mitsubishi Heavy Industries (MHI) Group is one of the world's leading industrial groups, spanning energy, smart infrastructure, industrial machinery, aerospace and defense. MHI Group combines cutting-edge technology with deep experience to deliver innovative, integrated solutions that help to realize a carbon neutral world, improve the quality of life and ensure a safer world. For more information, please visit www.mhi.com or follow our insights and stories on spectra.mhi.com.