Mitsubishi Heavy Industries Compressor Corporation to Establish Local Subsidiary in Brazil to Develop the Latin American Market for FPSO Compressors
Tokyo, December 9, 2015 - In December Mitsubishi Heavy Industries Compressor Corporation (MCO), a Group company of Mitsubishi Heavy Industries, Ltd. (MHI) based in Hiroshima, will establish a new company in Brazil in a joint venture with Mitsubishi Corporation (MC), to be known as MHI Compressor do Brasil Ltda. (MCO-B). Creation of the new entity, which will launch commercial operations in February 2016, is targeted at developing the Latin American market for compressors, with a focus on expanding sales of compressors for use in Floating Production, Storage and Offloading systems (FPSO), a market expected to see robust demand as Brazil develops deepwater oil fields. Initially MCO-B will perform sales and after-sale servicing functions, with local manufacturing capability targeted for the future.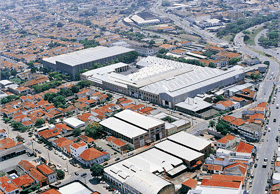 MCO-B will be established in December 2015 using part of a factory in Piracicaba, in São Paulo state, currently operated by NG Metalúrgica Ltda. (NGM), a Brazilian machinery manufacturer in a business tieup with MCO. MCO will have a 70% ownership stake, and Mitsubishi Corporation the remaining 30%. A sales office will be established in Rio de Janeiro, and the inaugurating president will be Jin Yamada, presently Director of MCO's Business Strategy & Planning Department.

Upon its establishment MCO-B's business will be performed by staff currently handling compressor operations at two MHI and MC affiliates headquartered in São Paulo city: Mitsubishi Indústrias Pesadas do Brasil Ltda. and Mitsubishi Corporation do Brasil, S.A. Unified sales and maintenance systems will be created, and collaboration will also be expanded with NGM, which currently is consigned to perform some local assembly operations relating to orders for Brazil's domestic market. By strengthening maintenance, repair and other after-sale servicing functions in partnership with NGM, MCO-B will be well positioned to respond swiftly to the needs of its customers.

Today Petroleo Brasileiro S.A. (Petrobras), Brazil's state-owned oil company, is undertaking a project exploring for oil in Brazil's offshore pre-salt layer. Over the long term, together with the broader Latin American market, considerable demand is expected for FPSOs, systems that require multiple compressors for gas compression, transportation, processing, etc. In addition, Petrobras is now strengthening its policy calling for preferential procurement of machinery and equipment manufactured in Brazil. In response, MCO, looking to set up a full-scale structure to attract local orders, has determined that preparing manufacturing functions domestically is indispensable, and the establishment of MCO-B is the company's response to this need.

MCO has been steadily building up its track record in the Latin American market, including Brazil, since the 1990s. To date the company has delivered more than 100 compressors and mechanical drive steam turbines, for use in pipelines or petrochemical facilities. Also, since 2010, when it received its first order for carbon dioxide (CO2) gas injection compressors for installment on an FPSO, MCO has received orders for, and completed deliveries of, numerous compressors for FPSOs.

MCO-B will also work closely with Mitsubishi Heavy Industries Compressor International Corporation (MCO-I), a Houston-based Group company that serves as a core manufacturing base for MCO in the Americas. Going forward, this collaboration will further boost the competitive position of MCO products within the Brazilian and broad Latin American compressor markets.
---
About MHI Group
Mitsubishi Heavy Industries (MHI) Group is one of the world's leading industrial groups, spanning energy, smart infrastructure, industrial machinery, aerospace and defense. MHI Group combines cutting-edge technology with deep experience to deliver innovative, integrated solutions that help to realize a carbon neutral world, improve the quality of life and ensure a safer world. For more information, please visit www.mhi.com or follow our insights and stories on spectra.mhi.com.