MHI and Minebea Agree to Jointly Develop ICT-Based Road Traffic Solutions for Phnom Penh, Cambodia, Smart City Plan
Mitsubishi Heavy Industries, Ltd.
Minebea Co., Ltd.
Tokyo, October 22, 2015 - On October 22 Mitsubishi Heavy Industries, Ltd. (MHI) and Minebea Co., Ltd. (Minebea) signed a memorandum of understanding (MOU) to collaborate in the development of road traffic solutions based on information and communication technology (ICT) as part of a Smart City Plan for Phnom Penh which Minebea is now promoting, in the Kingdom of Cambodia.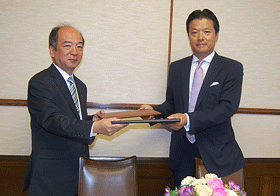 Minebea is currently undertaking the installation of approximately 9,000 high-efficiency smart LED street lights in five areas around Phnom Penh and Angkor Wat. The company plans to control the lights via a wireless network that will dim lighting automatically to enable significant reductions in energy consumption. The installation project is slated to be carried out within the framework of a Joint Credit Mechanism (JCM) established by the Ministry of the Environment Government of Japan. Minebea intends to promote the Smart City concept in Phnom Penh by enabling the street lights to also function as communication bases.

Toward realization of the Smart City concept, MHI will provide various technologies related to traffic control, and will jointly develop additional requisite technologies through close collaboration with Minebea.

Minebea is the precision components manufacturer engaged in the machinery components business such as ball bearings and electronic devices and components business including LED backlights used for smartphones, small-sized motors, etc. Minebea manufactures the miniature-sized ball bearings having the outer diameter of up to 22 mm in which the company has the largest global market share. On top of that, Minebea has kept trying to take new challenges and initiatives such as entering into the wireless communications business as well as the markets for lighting and censors, and the like.

MHI is one of the world's leading heavy machinery manufacturers and operates more than 300 group companies in Japan and other countries. MHI's diverse lineup of products and services encompasses various power generation systems, including thermal power, nuclear power and renewable energy; space systems; aircraft; ships and transportation systems; industrial machinery and defense related equipment. In the area of road traffic control, MHI is proactively developing global business opportunities with a particular focus on ASEAN countries.

Going forward, MHI and Minebea will apply their advanced technologies to the development of countries and regions throughout the world.
---
About MHI Group
Mitsubishi Heavy Industries (MHI) Group is one of the world's leading industrial groups, spanning energy, smart infrastructure, industrial machinery, aerospace and defense. MHI Group combines cutting-edge technology with deep experience to deliver innovative, integrated solutions that help to realize a carbon neutral world, improve the quality of life and ensure a safer world. For more information, please visit www.mhi.com or follow our insights and stories on spectra.mhi.com.