MHI Begins Proof of Concept of Multi-Lane Free-Flow Tolling in Malaysia
-- Technological Experience to be Accumulated in Run-up to Practical System Launch in 2018 –-
Tokyo, October 2, 2015 - On October 1 Mitsubishi Heavy Industries, Ltd. (MHI) began Proof of Concept (POC) of a multi-lane free-flow tolling (MLFF) for expressways in Malaysia. The MLFF helps to mitigate traffic congestion by allowing multi lane non-stop gantry tolling without requiring vehicles to slow down for toll collection. The POC is aimed to accumulate technologies to target the practical use of the system in 2018. The POC is being conducted under collaboration among Touch 'n Go Sdn. Bhd. and Quatriz System Sdn. Bhd., two major companies from ITS (intelligent transport systems) industries in Malaysia, with support from the Malaysian government.
The official launching of MLFF POC took place in Kuala Lumpur, Malaysia witnessed by more than 200 officials and executives from Malaysia and Japan. These included Datuk Abu Bakar, Deputy Minister of Malaysia's Ministry of Science, Technology and Innovation (MOSTI), and representatives from Ministry of Works, Ministry of Transport, Malaysian Highway Authority, and the Embassy of Japan to Malaysia. Also in attendance were executives from various agencies and companies involved in tolling industries.

The POC is being carried out under a supporting program from MOSTI and its agency, Technology Park Malaysia Corporation Sdn. Bhd. (TPM), that invest for Malaysia's home-grown technology development. The infrastructure for POC was built on a site owned by TPM. During the POC, fine-tuning of the system for Malaysia's environment such as Malaysia's vehicle license plate and various weather conditions will be undertaken. Plans also call for running of a test vehicle on an actual highway, as the next phase, in 2016. In addition, various ITS applications other than tolling will also be studied: for example, systems for payment of parking fees, vehicle drive control, and streamlining of vehicle tax management.

MHI signed a memorandum of understanding (MOU) with Touch 'n Go and Quatriz System in 2013 to further promote ITS business in Malaysia. The three companies jointly established TQM Consortium (named from the initial letters of the three companies), a body that has been conducting technological development in a broad array of ITS-related fields, including the MLFF system. The government of Malaysia has already decided to introduce the MLFF system in 2018.

Touch 'n Go is a clearing house operator established in 1996. The company operates a prepaid smartcard system for various applications including ETC systems on toll roads across the Peninsular Malaysia. Quatriz System is an ITS systems integrator established in 2012 that provides a variety of ITS applications suiting Malaysia's requirement. MHI has enjoyed a strong relationship with Malaysia ever since delivering the country's first toll collection machines for toll roads in 1985. Through the years, in order to jointly develop a proper and feasible technology for Malaysia, MHI has contributed to its partners by providing technological expertise and knowhow which is based on its solid track record both in Japan and in numerous overseas countries including Singapore.

Prior to the start of POC, MHI became the first foreign company to be granted to join the Intelligent Transport System Association of Malaysia (ITS Malaysia). The organization is chaired by Dato' Ismail, Director-General of the Malaysian Highway Authority.

With the commencement of the POC of MLFF, MHI will continue to strengthen its support for ITS development and the realization of a safer and more comfortable transportation environment in Malaysia.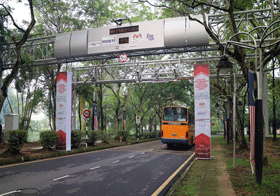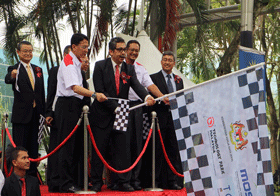 Multi-lane free-flow (MLFF) tolling system        Unveiling ceremony of MLFF POC facility
---
About MHI Group
Mitsubishi Heavy Industries (MHI) Group is one of the world's leading industrial groups, spanning energy, smart infrastructure, industrial machinery, aerospace and defense. MHI Group combines cutting-edge technology with deep experience to deliver innovative, integrated solutions that help to realize a carbon neutral world, improve the quality of life and ensure a safer world. For more information, please visit www.mhi.com or follow our insights and stories on spectra.mhi.com.