MHI-MME Receives Order for Waste Heat Recovery Systems (WHRS) to be Installed on 11 Mega Container Carriers of Maersk Line of Denmark
-- WHRS Achieves Revolutionary Energy Saving through Recovery and Utilization of Exhaust Gas Waste Energy from Marine Diesel Engines --
Tokyo, October 2, 2015 - Mitsubishi Heavy Industries Marine Machinery & Engine Co., Ltd. (MHI-MME), a group company of Mitsubishi Heavy Industries, Ltd. (MHI), has received an order from Daewoo Shipbuilding & Marine Engineering Co., Ltd. (DSME) of Korea, for waste heat recovery systems (WHRS) to be installed on eleven 19,600 TEU (twenty-foot equivalent unit) mega container carriers (MCC) being built by DSME for Maersk Line of Denmark. The WHRS on order is MHI-MME's proprietary system for marine use that efficiently generates electric power by maximizing recovery and utilization of exhaust gas waste energy from marine diesel engines. With this order, the cumulative number of WHRS units ordered since the system's market introduction in 2010 has now become 87.
The WHRS is a system that optimally controls exhaust gas turbines and steam turbines, enhancing fuel efficiency by recovering waste heat across a wide range of engine loads. In this way the system contributes to reductions in environmental impact.

Prior to the current order for installation on eleven MCCs, MHI-MME's WHRS equipment previously was installed on Maersk Line's Triple-E series (18,300TEU), the world's largest at that time and still considered the most efficient. The new WHRS order will bring the number of installations on Maersk vessels to 69, in four series.

Maersk Line is the international container shipping arm of A.P. Moller-Maersk A/S, a global conglomerate based in Copenhagen known as the world's largest class operator of container ships. The Maersk Group's business also includes oil & gas drilling.

The WHRS, MHI-MME's best-selling product, was developed through the integration of the MHI Group's marine technology and expertise accumulated through a long history of operations in this field. Of the 87 units of WHRS ordered for installation worldwide, 64 are already in service. MHI-MME accounts for a greater than 90% share of the WHRS's global market.

In addition to the WHRS, MHI-MME has the world's most diversified lineup of marine machinery and marine engines. Offerings include 2-stroke low-speed engines, MET turbochargers, propellers, marine boilers and turbines, deck cranes, deck machinery, fin stabilizers and steering gears.

Going forward, in its position as the leading company in its field, MHI-MME will continue to propose a broad portfolio of innovative energy-saving and environmental solutions to enhance seagoing energy efficiency and promote environmental preservation initiatives.
Image of WHRS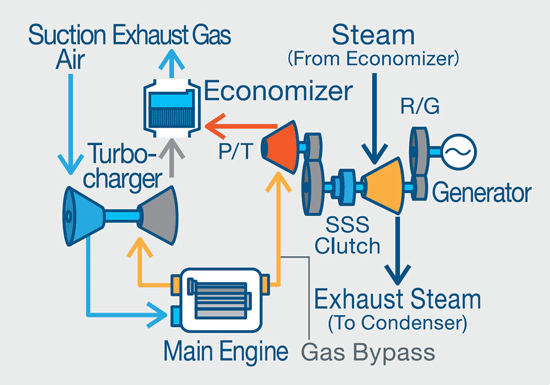 ---
About MHI Group
Mitsubishi Heavy Industries (MHI) Group is one of the world's leading industrial groups, spanning energy, smart infrastructure, industrial machinery, aerospace and defense. MHI Group combines cutting-edge technology with deep experience to deliver innovative, integrated solutions that help to realize a carbon neutral world, improve the quality of life and ensure a safer world. For more information, please visit www.mhi.com or follow our insights and stories on spectra.mhi.com.