MHI and the Ministry of Education and Training of the Socialist Republic of Viet Nam (MOET) Conclude MOC on Human Resources Development for the Promotion of Machinery Industries in Viet Nam
Tokyo, September 16, 2015 - Mitsubishi Heavy Industries, Ltd. (MHI) and the Ministry of Education and Training of the Socialist Republic of Vietnam (MOET) concluded a Memorandum of Cooperation (MOC) on human resources development for the promotion of machinery industries in Viet Nam.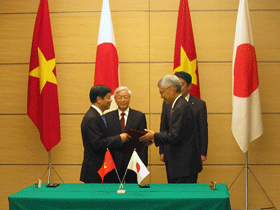 The MOC was exchanged by MHI Chairman Hideaki Omiya and the Vietnamese Ambassador to Japan, H.E. Mr. Nguyen Quoc Cuong. The ceremony took place at the office of the Japanese Prime Minister in the presence of Shinzo Abe, Prime Minister, and H.E. Dr. Nguyen Phu Trong, the General Secretary, Central Committee of the Communist Party of Viet Nam, who is currently in Japan on an official visit.

With the rapid progress of its industrialization, human resources development for the promotion of machinery industries has been expected in Viet Nam for the advancement in fields such as energy and infrastructure. MHI will establish and continue to support the scholarship program for Vietnamese students recommended by MOET to support their studies at universities in Japan. The envisaged number and duration of the program is five students per year for five phases, totaling 25 students altogether. During their stay in Japan, MHI will offer internship programs and provide opportunities for those students to learn advanced technologies of MHI.

MHI has been cooperating in the development of young people, the drivers of their country's future, through joint initiatives with Hanoi University of Science and Technology (HUST) for six years and Viet Nam's Electric Power University (EPU) for five years, by establishing courses in the fields of nuclear energy and aeronautical engineering.

MHI is currently operating a variety of businesses in Viet Nam in areas such as power generation equipment and steel production machinery. MHI established two group companies in Vietnam: MHI Engine Systems Vietnam (MHIES-V) near Ho Chi Minh City, involved in the diesel engine business; and MHI Aerospace Vietnam Co., Ltd. (MHIVA) near Hanoi, undertaking business related to commercial aircraft. Through creation of employment opportunities and transfer of technology, the two companies are making solid contributions to their local communities.

The new cooperation agreement in human resource development will further strengthen current good relationship between MHI and Viet Nam.
---
About MHI Group
Mitsubishi Heavy Industries (MHI) Group is one of the world's leading industrial groups, spanning energy, smart infrastructure, industrial machinery, aerospace and defense. MHI Group combines cutting-edge technology with deep experience to deliver innovative, integrated solutions that help to realize a carbon neutral world, improve the quality of life and ensure a safer world. For more information, please visit www.mhi.com or follow our insights and stories on spectra.mhi.com.