MHI-PPM Receives Order for Two "DIAMONDSPIRIT" Newspaper Offset Presses from The Nishinippon Shimbun Co., Ltd.
-- Two DIAMONDSPIRIT presses are selected for Phase II of Major Equipment Upgrade Initiative --
Tokyo, May 14, 2015 - Mitsubishi Heavy Industries Printing & Packaging Machinery, Ltd. (MHI-PPM), a group company of Mitsubishi Heavy Industries, Ltd. (MHI) based in Mihara in Hiroshima Prefecture, has received an order for two Mitsubishi 4x1 "DIAMONDSPIRIT" newspaper offset presses from The Nishinippon Shimbun Co., Ltd., a newspaper company based in the city of Fukuoka in southwestern Japan. The two presses on order will replace presses originally delivered by MHI in 1995. The new offset presses are scheduled to go into operation in spring 2016.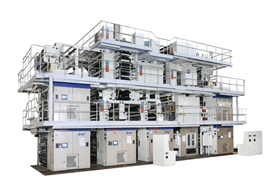 The DIAMONDSPIRIT can print up to up to 80,000 copies per hour at a maximum of 40 pages (16 in color). The adoption of a shaftless drive system, which controls the press by electrically synchronizing all the drive motors without mechanical shafts, enables shorter make ready time than with earlier presses. The DIAMONDSPIRIT also incorporates many newly developed improvements in terms of reducing energy consumption, paper waste and noise, thus lessening running costs while simultaneously contributing to a more pleasant operating environment. The presses will be operated by the Mitsubishi press control system with automated features that include ink presetting with CTP interface, various press presets, automatic color register and DIAMOND EYE Jr.+ - the newly developed color quality defect detection system.

The history of The Nishinippon Shimbun Co., Ltd. dates back to 1877, the year that Tsukushi Shimbun was founded. The name of the founding publication was eventually changed to the Fukuoka Nichinichi Shimbun and in 1942 it merged with Kyushu Nippo to create The Nishinippon Shimbun. Today The Nishinippon Shimbun Co., Ltd. is the widest read newspaper on Japan's third largest island of Kyushu with a daily circulation of more than 800,000 copies.

The Nishinippon Shimbun Co., Ltd. placed the order of five newspaper offset presses from MHI in 1995. Out of these five presses, two presses were replaced with the DIAMONDSPIRIT as Phase I of a major upgrade initiative, which went into operation in 2013 and 2014 respectively. The Nishinippon Shimbun Co., Ltd. has opted the Mitsubishi DIAMONDSPIRIT presses for Phase II after in-depth comparison with other manufacturers' press models including the manufacture of the existing presses. The company gave the DIAMONDSPIRIT press high marks for its high productivity, reduction in operating cost, and its solid track record of more than 30 press installations with proven operations. The company also became convinced with MHI-PPM's after-sales service network throughout Kyushu from its regional office in Fukuoka.

With this latest order, MHI-PPM further focuses on solution-providing marketing for not only the newspaper presses but also other equipment for newspaper production to expand in both the domestic and the global markets by responding to diversified customer needs for newspaper production.
---
About MHI Group
Mitsubishi Heavy Industries (MHI) Group is one of the world's leading industrial groups, spanning energy, smart infrastructure, industrial machinery, aerospace and defense. MHI Group combines cutting-edge technology with deep experience to deliver innovative, integrated solutions that help to realize a carbon neutral world, improve the quality of life and ensure a safer world. For more information, please visit www.mhi.com or follow our insights and stories on spectra.mhi.com.