New Turbocharger Plant in Indiana to Commence Full-scale Production
-- Startup Completes Final Assembly Structure Enabling Global Output of 10 Million Units Per Year --
Tokyo, May 13, 2015 - On May 12 (EST) a ceremony was held at a turbocharger manufacturing plant newly established by Mitsubishi Heavy Industries, Ltd. (MHI) in the U.S., in the city of Franklin in Indiana state, to mark the commencement of full-scale production. The launch of production at the new base is MHI's response to anticipated growth in demand for turbochargers in the North American market amid the trend toward vehicles meeting increasingly tighter fuel efficiency standards. With the start of full-scale production at the new U.S. plant MHI has now completed its worldwide production base structure for final assembly of turbochargers, targeting an annual global production capacity of 10 million units.
The opening ceremony for the new plant was attended by numerous local guests, including Indiana Lieutenant Governor Sue Ellspermann and Franklin Mayor Joe McGuinness. Also on hand were many of MHI's local customers and suppliers. Among the attendees representing the MHI Group were Masahiko Arihara, Chairman of Mitsubishi Heavy Industries America, Inc. (MHIA), and Takeshi Kajino, General Manager of MHI's Automotive Parts Division.

The new Franklin facility has been established as a production plant of Mitsubishi Engine North America, Inc. (MENA), a Chicago-based group company that markets MHI's engines and turbochargers in North America. Under a shared factory arrangement the new dedicated turbocharger production lines have been created in a newly expanded building and an existing building where compressors for car air-conditioning systems are manufactured for Mitsubishi Heavy Industries Climate Control, Inc. (MCCA), MHI's group company handling air-conditioning and refrigeration operations in North America. This arrangement will facilitate the pursuit of increased operating efficiency and other synergy merits.

Besides the final assembly line for turbochargers, the area in the factory exclusively used by MENA also contains storage space for both assembly components and finished products. MENA office facilities have also been incorporated. The area shared by MENA and MCCA is to be used for inspection, distribution and other related work tasks. On the assembly floor, finished products will be produced by attaching housings and other components to the core cartridges; the cartridges are manufactured primarily at Mitsubishi Turbocharger Asia Co., Ltd., an MHI group company located in Thailand. Initially the new plant will get under way with an annual production capacity of 600,000 units; subsequently capacity will be progressively increased to 1.2 million units and beyond.

Traditionally demand for turbochargers has been sluggish in the North American market, where the majority of passenger cars have gasoline engines. But in recent years the expanding adoption of tighter fuel efficiency regulations such as the CAFE standards* has driven increased demand for turbocharged engines in view of their contribution to improved fuel economy performance, especially in compact vehicles gasoline-fueled. Local production of turbochargers within North America is expected to boost MHI's competitiveness in terms of both quality, costs and faster deliveries, which will lead to sales expansion.

MHI is currently undertaking investments to increase its turbocharger production capacities world-wide, aiming for an annual global output of 10 million units, and the launch of the new plant in the U.S. is part of such initiative. The company will further step up its efforts to respond swiftly to expanding demand for turbochargers with flexible production structure in North America, Europe (the Netherlands), China, Thailand and Japan,

* The CAFE (Corporate Average Fuel Economy) regulations set average fuel performance standards calculated based on the total volume of vehicles actually sold by the manufacturer. Permissible performance ratings are to become increasingly more demanding in the years ahead.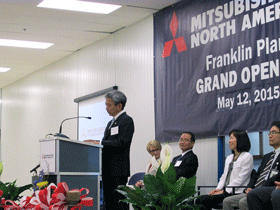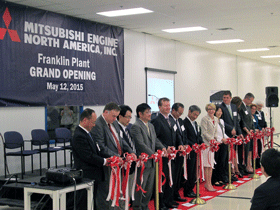 The opening ceremony
---
About MHI Group
Mitsubishi Heavy Industries (MHI) Group is one of the world's leading industrial groups, spanning energy, smart infrastructure, industrial machinery, aerospace and defense. MHI Group combines cutting-edge technology with deep experience to deliver innovative, integrated solutions that help to realize a carbon neutral world, improve the quality of life and ensure a safer world. For more information, please visit www.mhi.com or follow our insights and stories on spectra.mhi.com.