MHI Receives an Order of 50,000 On-board ETC Units and Antennas for Expressway in Vietnam
First Export of Japanese ETC System Aiming to Become the Global Standard in ETC
Tokyo, April 28, 2015 - Mitsubishi Heavy Industries, Ltd. (MHI) has received an order of devices for an ETC (Electronic Toll Collection) system to be used on an expressway in Vietnam and has begun detail designing towards the commencement of their delivery in this July. The devices include 50,000 on-board units for automobiles, as well as antennas for use at toll gates. The event marks the first overseas delivery of the highly reliable Japan-standard ETC system that aims to become the global standard in ETC systems.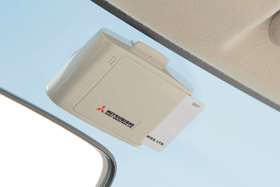 The ETC system devices will be introduced on the 55-kilometer Ho Chi Minh City - Dau Giay section of the route from Ho Chi Minh City to Can Tho, a city in Mekong Delta. The Ho Chi Minh City - Dau Giay section is part of Vietnam's North - South Expressway and was completed with loan assistance from Japanese government. The devices are part of an order for Intelligent Transportation Systems (ITS) received from the Vietnam Expressway Corporation (VEC) by a joint venture formed by Toshiba Corporation, Hitachi, Ltd. and ITOCHU Corporation.

MHI will deliver the ETC system devices to Innovative Technology Development Corporation (ITD Corporation*) of Vietnam, which has an equipment procurement contract with the joint venture company. MHI has concluded a manufacturing and sales agreement with ITD Corporation for the ETC on-board units and antennas.

The ETC system on order uses active-type dedicated short-range communication (Active DSRC), the standard ETC system specification in Japan. In addition to highway toll collection, the highly scalable system is also capable of providing various traffic related information. MHI previously conducted trial operations of the system in Malaysia.

To support its rapidly expanding economy, Vietnam plans to construct a total of approximately 6,000 kilometers of expressway. It also seeks to mitigate traffic congestion caused by the increasing number of vehicles that are on the nation's roads.

Leveraging the order for the ETC system for Vietnam, MHI looks to win orders in ETC related projects in the country. At the same time, the company will also strengthen marketing activities of the Japanese standard ETC system globally, especially in countries and regions that are considering the introduction of such a system.

ITD Corporation is an information communication and technology (ICT) company that was established in 1999 by graduates of the Ho Chi Minh City University of Technology (HCMUT) and others. The company is known for its strengths in factory automation, intelligent traffic control, ICT and clean power supply, and is listed on the Ho Chi Minh Stock Exchange.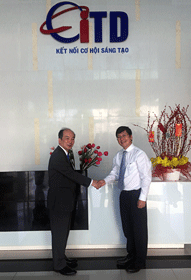 ITD Corporation CEO Quan & MHI ITS strategic business unit general maneger Hiroyuki Toda
---