Mitsubishi Heavy Industries Compressor Corporation Begins Operation of Newly Built Compressor Production and Service Facility in Texas
-- Enhanced "One-stop Service" from Manufacturing to Maintenance --
Tokyo, April 27, 2015 - Mitsubishi Heavy Industries Compressor International Corporation (MCO-I), a U.S. subsidiary of Mitsubishi Heavy Industries Compressor Corporation (MCO), a group company of Mitsubishi Heavy Industries, Ltd. (MHI), has begun operation at its manufacturing and service facility in Pearland, Texas, outside Houston. The newly constructed facility is MCO's first overseas-based compressor manufacturing and service location. The facility will provide one-stop manufacturing, repair and maintenance services for compressors and the steam turbines used to drive compressors, and will also respond to new installation and renewal demand at petrochemical plants.
A ceremony held on April 25 (U.S. CDT) to celebrate the start of operations at the Pearland Works was attended by numerous local government representatives and community leaders, including Tom Reid, the Mayor of Pearland.

"With the new operation, we are closer to our customers and can respond to their manufacturing and service needs more quickly than ever before," said Gampa Baht, president of MCO-I, at the ceremony. He also said that the new facility will enable the customers in the Gulf Coast and across the country to benefit from shorter order lead times and reduced costs.

The 17,000 square meter (180,000 square feet) facility is located on a 105,000 square meter (26 acre) site. It houses a variety of capabilities including packaging and assembly, rotor* storage, repair and maintenance services, administrative offices, and a training center. To date, MCO-I has invested more than $75 million into the state-of-the-art Pearland Works facility. Additionally, MCO-I has purchased $26 million of new manufacturing equipment including state-of-art NC lathes and parts processing machinery along with a 300-ton overhead crane, allowing for accommodation of various-sized compressors and turbines.
*Rotors are core components of compressors and turbines.

On the heels of operation commencement, MCO-I plans a second round of expansion. Once the expansion is complete, MCO-I estimates that Pearland Works will employ more than 200 people, with a focus on engineering and machining positions.

Gas-rich shale is abundant in the U.S., and by applying advanced economical gas and oil extraction technologies oil companies are working to increase production capacity. In tandem with this, petrochemical companies in the U.S. and other countries are aggressively investing, and several mega-scale ethylene plants with a production capacity of over 1 million tons per year (mtpy) are being constructed.

With the commencement of operations at Pearland Works, MCO and MCO-I will further solidify their business foundation in North America and enhance their ability to provide comprehensive one-stop service, covering everything from manufacture and installation to long-term maintenance and emergency repair. At the same time, MCO will also strengthen its sales activities in global markets, including Europe and Africa.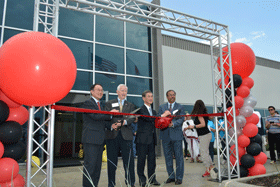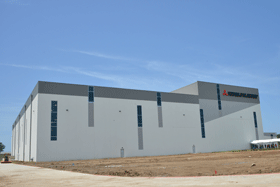 Opening ceremony at Pearland Works
---
About MHI Group
Mitsubishi Heavy Industries (MHI) Group is one of the world's leading industrial groups, spanning energy, smart infrastructure, industrial machinery, aerospace and defense. MHI Group combines cutting-edge technology with deep experience to deliver innovative, integrated solutions that help to realize a carbon neutral world, improve the quality of life and ensure a safer world. For more information, please visit www.mhi.com or follow our insights and stories on spectra.mhi.com.