MHI Receives "Grand Prix" at "17th Nikkei Annual Report Awards"
-- High Marks Given to "MHI REPORT 2014" --
Tokyo, February 9, 2015 - Mitsubishi Heavy Industries, Ltd. (MHI) has received the Grand Prix at the Nikkei Annual Report Awards 2014 sponsored by Nikkei Inc. The Grand Prix is the top award to be given to the company most highly appreciated by judges. The award-winning publication is the "MHI REPORT 2014" released in October 2014, which marked the first time the company integrated the contents of its earlier "Annual Report" and "CSR Report." In its new format, "MHI REPORT 2014" was acclaimed by Nikkei for the compact and easily approachable manner in which it presents vital information.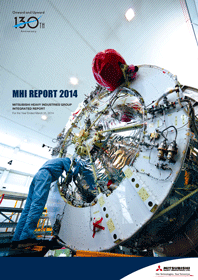 The annually presented Nikkei Annual Report Awards were inaugurated in 1998 to promote the further enhancement and more widespread publication of corporate annual reports. The awards are given to annual reports published by Japanese corporations that are deemed to be especially outstanding.
In 2014, a total of 54 business corporations entered the competition. The winners were selected based on a broad variety of criteria by a judging panel comprised primarily of currently active fund managers and analysts.
In selecting the "MHI REPORT 2014" for the Grand Prix, the judges gave high marks in particular to the following factors:
- The report comprehensively integrates vital information to understand MHI.
- The report describes in extremely easy-to-understand terms how MHI creates value.
- The report presents a clear picture of MHI's outstanding management strengths and of the business structure reforms the company is implementing through corporate governance reforms.
- The adoption of three concise main blocks - "MHI's Value Creation," "Strategies for Augmenting Corporate Value" and "Initiatives to Enhance Corporate Value" – provide a clear sense of top management's strong commitment.
- Overall, the report's level of quality and achievement is extremely high.


Encouraged and further inspired by receipt of this highly valued award, going forward MHI's management team will continue to take the lead in proactively communicating with its shareholders, investors and all other stakeholders and in making timely and proper disclosures of information. In these and other ways, the entire company will vigorously engage in corporate communications and IR initiatives that will lead to the further enhancement of MHI's corporate value.
---
About MHI Group
Mitsubishi Heavy Industries (MHI) Group is one of the world's leading industrial groups, spanning energy, smart infrastructure, industrial machinery, aerospace and defense. MHI Group combines cutting-edge technology with deep experience to deliver innovative, integrated solutions that help to realize a carbon neutral world, improve the quality of life and ensure a safer world. For more information, please visit www.mhi.com or follow our insights and stories on spectra.mhi.com.