MHI's Centrifugal Chiller Production, Marketing and Service JV in China completes Production Readiness
- MHI Bingshan Refrigeration (Dalian) Co., Ltd. (MBRD) is joint Undertaking with Dalian Refrigeration Co. -
Tokyo, December 17, 2014 - MHI Bingshan Refrigeration (Dalian) Co., Ltd. (MBRD), a joint venture dedicated to centrifugal chillers established in 2013 by Mitsubishi Heavy Industries, Ltd. (MHI) and Dalian Refrigeration Co., Ltd. (DRC) of China, has completed production readiness of chillers. Going forward, the JV will now pursue accelerated sales expansion both in China, the world's largest market for centrifugal chillers, and throughout Asia leveraging the enhanced cost competitiveness deriving from its production, marketing and servicing capabilities.
To celebrate the completion, a ceremony was held at the company today attended by many distinguished guests, including Zhou Xiaoyu, Vice Secretary-General of Dalian Municipal People's Government. Attendees from MHI include Yukio Kodama, Executive Vice President and Vice President of the Machinery, Equipment & Infrastructure business domain; and Keiichiro Iwasaki, Senior Vice President and Chief Regional Officer, China, who concurrently serves as President of Mitsubishi Heavy Industries (China) Co., Ltd. A line-off ceremony was held in timing with completion of the first centrifugal chiller unit, a model AART-70R with a capacity of 700-900 USRt.

MHI Bingshan was established in November 2013 capitalized at 80 million yuan, with MHI owning a 55% equity share and DRC, China's largest manufacturer of screw compressor chillers, holding the remaining 45%. To produce centrifugal chillers, a new factory (floor area: approx. 12,000 square meters) was constructed on DRC's plant site in Dalian. Operations at the new facility were launched in April and preparations got under way toward achieving mass production capability. The JV has been licensed to manufacture MHI's medium- and large-size centrifugal chillers, and through the near term it will operate under a production system capable of producing 500 units per year.

Local marketing and servicing of the centrifugal chillers manufactured at MBRD are performed by Mitsubishi Heavy Industries Air-conditioners (Shanghai) Co., Ltd. (MHIAS), a group company that oversees MHI's air-conditioning and refrigeration systems business in China. MHIAS will pursue sales expansion of centrifugal chillers leveraging its sales network throughout China. The chillers will also be marketed broadly in Southeast Asia and other areas near to China. In this way, MBRD is positioned to grow into a sourcing base having production and supply capabilities to serve the needs of the global market.

DRC is an affiliate of Dalian Bingshan Group Co., Ltd., a supplier of air-conditioning and refrigeration systems and equipment. DRC accounts for the top share of the Chinese market for screw compressors, and it also offers a range of industrial refrigeration systems and other products.

MHI's centrifugal chillers deliver the world's highest levels of refrigeration efficiency and environmental performance, features that have enabled the company to capture a 60% share of the Japanese market. Through MBRD, MHI now looks to forge globally optimized production and parts supply structures for its centrifugal chillers as a way of enhancing their global competitiveness, to drive further expansion of the company's share in the world market.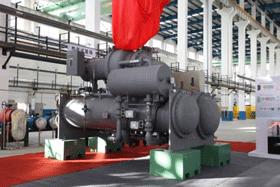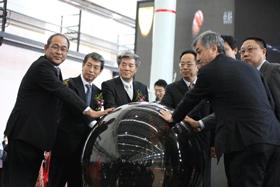 Unveiling of the first centrifugal chiller
---
About MHI Group
Mitsubishi Heavy Industries (MHI) Group is one of the world's leading industrial groups, spanning energy, smart infrastructure, industrial machinery, aerospace and defense. MHI Group combines cutting-edge technology with deep experience to deliver innovative, integrated solutions that help to realize a carbon neutral world, improve the quality of life and ensure a safer world. For more information, please visit www.mhi.com or follow our insights and stories on spectra.mhi.com.