MHI Completes Development of "Sayaringo STaGE," a Next-generation LNG Carrier Offering Superior Transport Efficiency and Fuel Performance, Engineered for New Panamax Needs
Tokyo, November 27, 2014 - Mitsubishi Heavy Industries, Ltd. (MHI) has completed development of the "Sayaringo STaGE," a next-generation LNG (liquefied natural gas) carrier. The Sayaringo STaGE was developed as a successor to the "Sayaendo1," the company's highly acclaimed LNG carrier evolved from carriers with Moss-type2 spherical tanks that offer a high level of reliability. The adoption of apple-shaped tanks (ringo being the Japanese word for "apple") has enabled a near 16% increase in LNG carrying capacity without changing the ship's width, while incorporation of a hybrid propulsion system has boosted fuel efficiency by more than 20% compared to the Sayaendo (and more than 40% vis-à-vis earlier carriers). Leveraging the Sayaringo STaGE's capacity for transporting North American shale gas safely and efficiently, MHI plans to undertake extensive business activities promoting the new vessel as a strategic product among its LNG carrier offerings.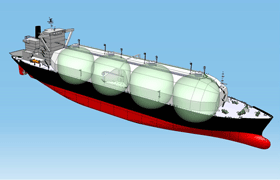 Whereas the Sayaendo has a continuous cover over spherical pea-shaped tanks, the tanks adopted on the Sayaringo STaGE have an apple-like shape with the upper half bulging more than the lower half. The new apple-shaped tanks constitute an improved version of high-reliability Moss-type tanks, and they have been adopted on the Sayaringo STaGE as part of MHI's initiative to develop a vessel in the New Panamax3 category, i.e. capable of passing through the newly expanding Panama Canal which is expected to go into service early in 2016. The new structural configuration succeeds in efficiently increasing LNG carrying capacity.

STaGE, an acronym deriving from "Steam Turbine and Gas Engines," is a hybrid propulsion system combining a steam turbine and engines that can be fired by gas. The components of the Sayaringo STaGE system are the "Ultra Steam Turbine plant" (UST), a highly efficient reheating steam type marine turbine developed independently by MHI, a dual-fuel diesel engine capable of operating on both gas and oil, and an electric propulsion motor. Plant efficiency has been significantly improved through the UST's effective use of the engine's waste heat, resulting in a propulsion system enabling high-efficiency navigation throughout a full range of speeds.

The basic design of the Sayaringo STaGE has now been completed, with the vessel's LOA (length overall) set at 297.5m, width at 48.94m, depth at 27.0 and draft at 11.5m. Four apple-shaped tanks are featured. The developed design provides 180,000 cubic meters (m3) in total LNG tank capacity, but capacity can be set in accordance with the customer's transport needs.

Since MHI developed the Sayaendo in 2011, orders have been steady, commencing with the first order that called simultaneously for two vessels. To date a total of eight vessels have been ordered, including one ordered through MI LNG Company, Limited, a joint venture with Imabari Shipbuilding Co., Ltd. Now, with the Sayaringo STaGE as a successor ship to the Sayaendo offering increased transport capacity and greater fuel performance, MHI aims to conduct brisk marketing activities for its next-generation LNG carriers delivering superlative environmental performance in its quest to make a robust contribution to the global LNG transport industry.

1 "Sayaendo" takes its name from the peapod-shaped continuous steel cover over its spherical aluminum tanks. Integrated with the ship's hull, this innovative structure was developed by MHI with technical support from Aker Arctic Technology Inc. of Finland.
2 Moss-type LNG carriers use independent spherical cargo tanks to transport LNG. The spherical tanks are supported by a cylindrical skirt integrated with the hull and covered with a hemispherical steel cover attached to the main deck.
3 New Panamax indicates the maximum size of ships navigable through the newly expanding Panama Canal. Maximum dimensions are 366m in LOA, 49m in width and 15.2m in tropical freshwater (FTW) draft.
---
About MHI Group
Mitsubishi Heavy Industries (MHI) Group is one of the world's leading industrial groups, spanning energy, smart infrastructure, industrial machinery, aerospace and defense. MHI Group combines cutting-edge technology with deep experience to deliver innovative, integrated solutions that help to realize a carbon neutral world, improve the quality of life and ensure a safer world. For more information, please visit www.mhi.com or follow our insights and stories on spectra.mhi.com.