MHI Receives Order for New Automated People Mover(APM) System at Tampa International Airport in Florida
-- Order Comes on the Heels of the Contract for Orlando International Airport; MHI APM Systems to be Installed in all Major Airports in the State of Florida --
Tokyo, November 7, 2014 - Mitsubishi Heavy Industries, Ltd. (MHI), with the cooperation of Sumitomo Corporation, has received an order to construct an Automated People Mover (APM) system at the Tampa International Airport in the State of Florida. Completion is scheduled for 2017. The order comes on the heels of MHI's award of a contract on three APM systems for the Orlando International Airport, also in Florida, this past July, and it brings up the total number of MHI's APM systems ordered in the U.S. to eight. With the latest order MHI has now been contracted to supply APM systems to all major airports in the State of Florida.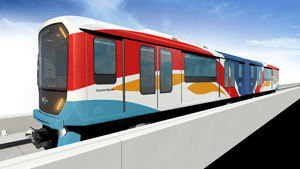 The new order was placed by the Hillsborough County Aviation Authority through Mitsubishi Heavy Industries America, Inc. (MHIA), an MHI group company. In the 1970s Tampa International Airport became the world's first airport to operate an APM system linking its terminals; but in recent years, in tandem with plans to modernize its terminals and create a new Consolidated Rental Car Facility, construction of a new APM system connecting the new facilities to the main terminal became an urgent issue. Under the terms of the new order, MHI will build the new 1.4-mile (2.3-kilometer) line and supply 12 new train cars.

The contract also includes five years of system Operations &Maintenance after construction is completed, with two additional five-year options, which will be performed together with the Florida-headquartered joint venture of MHIA and Sumitomo Corporation- Crystal Mover Services, Inc.

Mitsubishi Heavy Industries is the largest APM supplier in the world, having been selected to provide more cars than any other APM supplier. In the United States MHI has already supplied APM systems to Miami International Airport, Washington Dulles International Airport and Hartsfield-Jackson Atlanta International Airport, and all three systems are maintaining a high rate of operation. Elsewhere, MHI has an abundant record of deliveries completed around the world, including Hong Kong, Singapore, Korea and Dubai, capped by a large-scale order for an APM system and 158 cars for the Macau Light Rapid Transit system. In its home market, in 2010 MHI won an order for 108 new cars (winner of a 2014 "Good Design" award) for the Yurikamome Waterfront APM system in Tokyo; progressive delivery of the carriages commenced this year, and they are now in operation.

The new order for a new APM system at Tampa International Airport reflects the high acclaim of the reliability, technological strength and capacity to carry out construction demonstrated by MHI's proven track record in deliveries and operations around the world. With the latest order, MHI will continue to drive the worldwide market and contribute to a more sustainable future.
---
About MHI Group
Mitsubishi Heavy Industries (MHI) Group is one of the world's leading industrial groups, spanning energy, smart infrastructure, industrial machinery, aerospace and defense. MHI Group combines cutting-edge technology with deep experience to deliver innovative, integrated solutions that help to realize a carbon neutral world, improve the quality of life and ensure a safer world. For more information, please visit www.mhi.com or follow our insights and stories on spectra.mhi.com.