MHI to Exhibit at "21st ITS World Congress Detroit 2014"
-- Exhibits to Include Automated Toll Collection Machines, Remote Control & Supervision System and CN/GNSS-based Toll Collection System -
Tokyo, September 4, 2014 - Mitsubishi Heavy Industries, Ltd. (MHI) will be exhibiting at the "21st ITS World Congress Detroit 2014" to be held at Cobo Center in Detroit, Michigan, from September 7 through 11. The company's exhibits will center on automated toll collection machines and a remote control & supervision system in service at expressway tollbooths in Japan, and a cellular network/global navigation satellite system (CN/GNSS) for collecting road tolls using a positioning satellite and cellular network. MHI will also be giving presentations introducing its abundant track record and technological capabilities in the intelligent transportation systems (ITS) field.
MHI's exhibits will fall broadly into three categories: Japan's toll collection system, onboard units and intelligent transportation solutions. The toll collection system adopted in Japan incorporates automated toll collection machines, a remote control & supervision system, an electronic toll collection (ETC) roadside system, etc. In onboard units, the company will show its ETC units for the domestic market, ITS spot (dedicated short-range communications: DSRC) compatible units, CN/GNSS onboard units, an onboard electronic road pricing (ERP) unit accommodating both contact and non-contact type cards that was developed for use in Singapore, a global ETC onboard unit engineered to Japan's ETC standards, and radio frequency identification (RFID: wireless IC) tags for simple ETC systems. Intelligent transportation solutions will include the company's transportation simulation technology employing collected probe data (vehicle information sent from onboard devices).

MHI is scheduled to present two papers at the Congress. One will discuss value added services of the CN/GNSS-based Road Pricing System; the other will focus on a Multi-Lane-Free-Flow charging system based on ID tag.

The ITS World Congress is the only global gathering dedicated to the topic of ITS. An annual event, it is convened on an alternating basis by three organizations representing three geographic regions: ERTICO-ITS for the European zone, the Intelligent Transportation Society of America (ITS America) for the U.S., and ITS Japan for the Asia-Pacific region. Last year the Congress took place in Tokyo. The theme of the 21st ITS World Congress will be "Reinventing Transportation in our Connected World." Approximately 10,000 participants from more than 60 countries are expected to attend, and the program is scheduled to include presentations of some 650 papers and upwards of 200 meetings.

MHI has been a leading manufacturer of toll collection systems for expressways, parking lots, etc. since its first delivery of a punch-card type toll collection system for the Tomei and Chuo Expressways in 1967. Over the years the company has built up a solid record of deliveries both in Japan and abroad, and today, applying the technologies and experience cultivated through those achievements, it is actively involved in ITS, a core element of tomorrow's social infrastructure. In its current quest to be a "Total Solution & Service Provider of Road Transport for Livable Community," in recent years MHI has expanded beyond the conventional parameters of ITS to proactive involvement in more expansive fields including smart communities. Going forward, the company will continue to devote itself to acting as a source of information at venues such as the ITS World Congress as it looks to make further contributions to the realization of increasingly safer transportation systems and more pleasant transportation environments with less traffic congestion.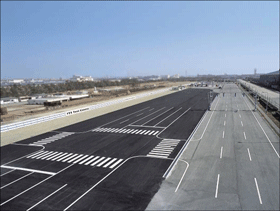 Test course at Futami plant
---
About MHI Group
Mitsubishi Heavy Industries (MHI) Group is one of the world's leading industrial groups, spanning energy, smart infrastructure, industrial machinery, aerospace and defense. MHI Group combines cutting-edge technology with deep experience to deliver innovative, integrated solutions that help to realize a carbon neutral world, improve the quality of life and ensure a safer world. For more information, please visit www.mhi.com or follow our insights and stories on spectra.mhi.com.